"The stronger our innovation ecosystem, the stronger BBVA is"
Mario Pardo, the global head of Enterprise Solutions at BBVA, shared the stage at the Open Innovation Forum with Henry Chesbrough, renowned academic of the University of California and known as the 'father of open innovation'. Both speakers spoke about how BBVA is working with its corporate clients and startups to develop better banking solutions.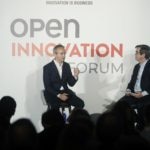 "In a context in which all sectors are changing rapidly and the lines separating industries are disappearing, it is more important than ever is to work together with all of the digital ecosystem, including startups as well as big companies", says Mario Pardo, global head of Enterprise Solutions at BBVA in a conversation with the U.S, academic Henry Chesbrough, a recognized organizational theorist and executive director of the Garwood Center for Open Innovation of the Haas School of Business (University of California, Berkeley).
Chesbrough coined the phrase "open innovation" to refer to how the flow of knowledge from inside organizations to the outside (inside-out) and from the outside to the inside (outside-in) serves as a mechanism to speed up internal innovation and the emergence of new ideas in the market. In the 1980s, big companies were responsible for over 70 percent of the R&D in the world. Today this has changed: big companies remain responsible for 35.6 percent of innovation but now small companies (with less than a 1,000 employees) carry out over 20 percent of R&D, Chesbrough explained in his remarks to the Open Innovation Forum, the workshop that served as the opening salvo of the South Summit 2018 en Madrid.
"Now more than ever we are firmly set on working together both with startups as well as our big corporate clients to develop better solutions and products"
In this context, it is not enough to innovate within the walls of an organization. You need to go outside to connect with better ideas in the ecosystem. The academic noted examples such as BBVA's Open Talent initiative, which has been in contact with entrepreneurs for over 10 years, as a way of illustrating this new, more open way of focusing innovation.
He also pointed to some examples of the so-called "collaborative economy" such as Car2Go that generate new ways of creating value by sharing a vehicle with other users when the owner is not using it. The same can be said of the Amazon model in which the company "opens" not only its own online shop to other companies to sell their products but also its servers (through Amazon Web Services) for other companies to host their digital structures. This philosophy is also seen in the open ecosystem surrounding its virtual assistant Alexa. By opening the development platform, thousands of startups can create new applications for Alexa that benefit Amazon as much as it does small companies and their customers.
A win-win relationship
This relationship of mutual benefit among users, customers and other actors in the ecosystem is precisely what BBVA is developing with its corporate clients, explained Pardo in his conversation with Chesbrough. "Corporate banking is going through the same process of digital transformation as retail banking," he said, but with a series of special "complex needs" that makes open innovation a particularly favorable strategy.
Specifically, banking solutions need to lend themselves to integration with the infrastructure used by companies in working with customers such as electronic sales platforms or software suppliers, among others. "Working directly with them is the only way to offer the best solutions", Pardo explained.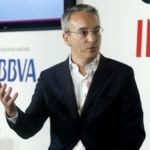 Mario Pardo, Global Head of Enterprise Solutions at BBVA in a conversation for Open Innovation.
By way of example, Pardo explained how BBVA holds so-called 'Open Days' with its corporate clients. These are sessions that allow for direct feedback from clients and show the need to get involved in the earliest stages of the development of products. "Agile methodologies and design-thinking sessions have helped, on the one hand, the development production cycles and also base them from the start on the real needs of clients", he said.
The BBVA executive also explained how BBVA's blockchain teams have worked very closely with corporate bank clients to roll out solutions. Examples of this include the pilot carried out in April of this year with Indra on the first operation involving the negotiation and signing of a corporate loan on a blockchain platform and the agreement with Repsol on the joint development of financial solutions based on this technology.
"Now more than ever we are firmly set on working together both with startups as well as our big corporate clients to develop better solutions and products", Pardo said.
One of the latest ventures by BBVA to foster links between the external ecosystem and the internal one giving rise to tangible results, Pardo pointed out, has been the launch of a new platform to create connections with startups. "Thanks to Open Marketplace we have greatly simplified the process of putting companies directly in touch with our business units in order to start working together," he said.
This completes the cycle of innovation and encourages that the new ideas emerging in the sector be also of benefit to corporate clients, who in turn can offer better solutions to their users: "The stronger our ecosystem, the stronger BBVA will be", he concluded.