Joan Roca: "The difficult task ahead will be giving people the confidence that they can return to restaurants"
The COVID-19 pandemic has drastically altered our habits. Bars, restaurants, and entertainment spots have temporarily closed down and are being forced to consider how they might have to restructure in response to a new, post-pandemic world. "Seeing an empty restaurant is a bit sad: such a vital space, normally with so much energy and young people from all over the world working, but we want to be optimistic," says chef Joan Roca, owner of El Celler de Can Roca, one of Spain's most celebrated gastronomic venues. The hospitality industry is facing a considerable challenge, and insight from industry leaders like the Roca brothers can shed some light on what we might expect from restaurants in a post-COVID-19 reality.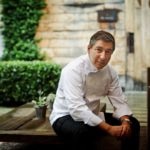 A gradual relaxation of confinement measures is expected in the coming weeks, although businesses in the hospitality industry may have to wait a bit longer to resume their activities. In the meantime, chefs and establishment owners are managing uncertainty by devising plans for a rapid, yet safe comeback. Our future reality may be quite different to the one we have known. "It is very likely that restaurants will not be the same after the pandemic. We imagine they will be more spacious, with much more room between tables, and working in kitchens that are more sterile than ever before," Joan Roca comments. Such future measures will have a major impact on businesses and will entail significant changes to the layout of the space.
Quarterly Report 1Q23
According to the Catalan chef, "all of this will result in serving fewer customers than we did before. We are already thinking about how to reorganize the team and reservation system." Customers and the company's teams have been, and will continue to be, the two greatest priorities for the restaurant. El Celler's reservation system looks out one year; the first day of each month the system begins to accept reservations for 11 months out. It is a long wait that the coronavirus has turned on its head. "We will continue delaying reservations as the state of emergency draws out. Between those bookings that are being canceled and those that are being pushed out, we are more or less fitting everyone in, but it's still too early to know how we will end up adapting," he says.
"When we do open, there is a good possibility that we will have to change our hours and maybe open on the days when we used to be closed, in order to make enough time to fit in those people who had already made reservations," Joan anticipates. This potential solution would also provide work for the full team previously on staff. "Having closed our establishments, we have had to temporarily lay off those employees who really can't work, for obvious reasons. We are taking part in Spain's furlough scheme (ERTE) and supplementing the government benefit so our team continue to receive their full salary," he explains.
A fact that inspires optimism: on April 1st, the restaurant started taking reservations for March 2021, and in ten minutes it was fully booked. "This is important information; it gives hope; it's an optimistic piece of data that makes us think that at least next year we'll be returning to some level of normality," he explains confidently.
Hospitality, post-quarantine
The Roca brothers are mindful that they are starting from a privileged position. Held in quasi-religious esteem as world leaders in gastronomy and with a diversified business model, they are better positioned than most to adapt to a changed landscape in hospitality. "Our corporate structure is diverse. Let's just say we've put our eggs in different baskets, and those baskets are going to act differently once the coronavirus comes to and end," he asserts.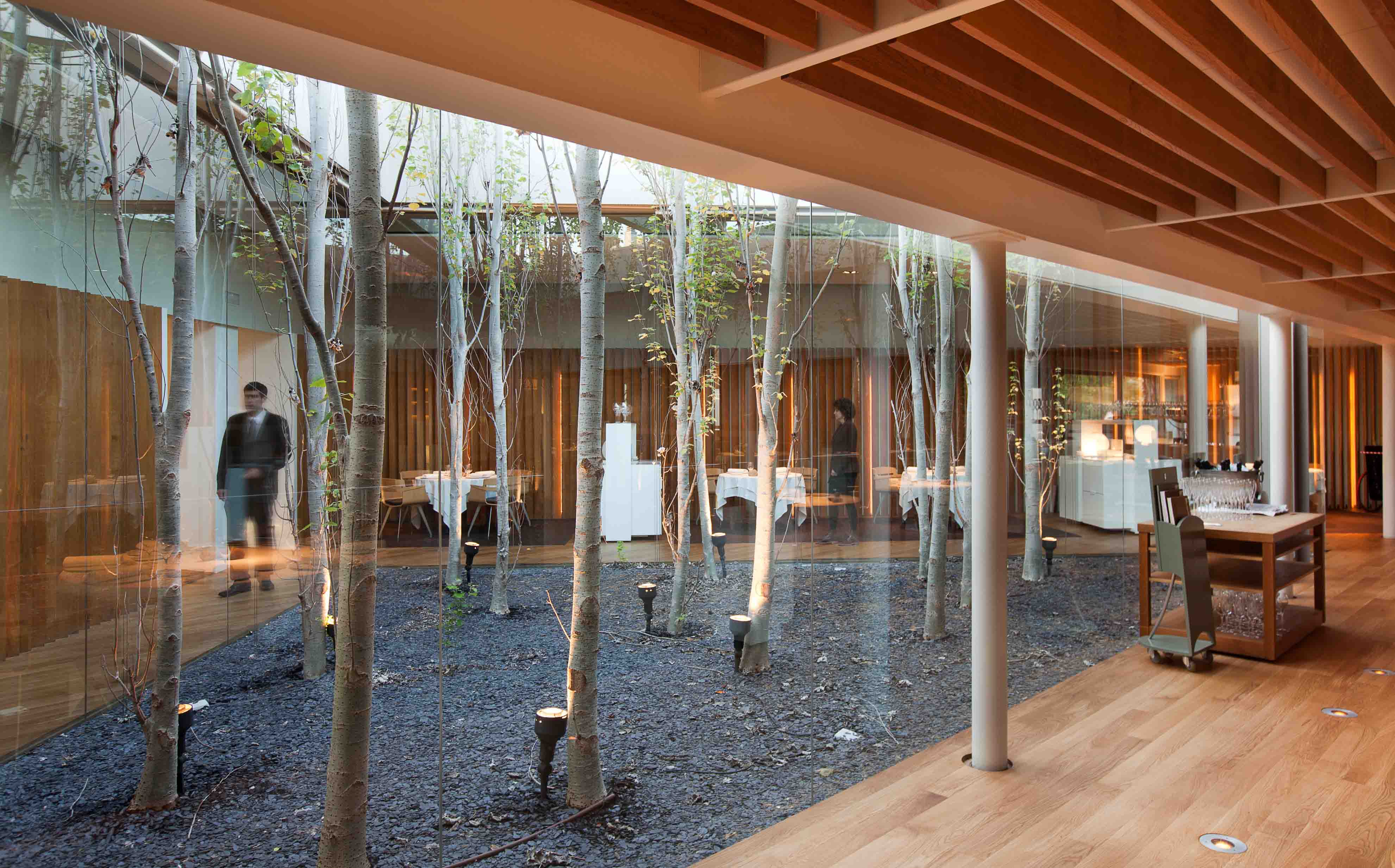 Interior of the restaurant - BBVA
"The hospitality sector is rife with uncertainty, and obviously that's worrying. It is one of the sectors that is going to suffer the most, because it's not just about re-opening and complying with any rules they impose. The difficult job ahead will be giving people the confidence that they can return to restaurants or bars, and especially doing so economically."
Joan thinks the hardest hit will be the small locales "where tables are traditionally very close together or even sitting side by side at the bar. It is not going to be at all easy to find a fit with the new reality." Event planning will also be complicated. The Roca brothers' portfolio includes Mas Marroch, an event venue in Girona that will have to wait before it can accommodate large celebrations, but it already has another option: a provisional restaurant that can employ part of the team over the summer-autumn season. "We are thinking about a culinary experience based on the classic dishes served at El Celler de Can Roca. It is a large venue with gardens and patios and has the potential to hold a lot of tables. The goal of this restructuring is focused on keeping our team active and in work."
Time for both reflection and creativity
The sacrifices demanded by restaurant life have come to a standstill, and chefs like Joan Roca have found themselves with more free time than they've ever had. "Our work is extremely absorbing, and we don't have much time to spend with family," Joan explains that in addition to plotting future solutions, he is taking advantage of the current downtime in order to spend time with his loved ones. "To have the time to cook and eat together, to read the books that have been piling up, to sleep eight hours straight. All this is a luxury. We are cooking at home more than ever," he stresses.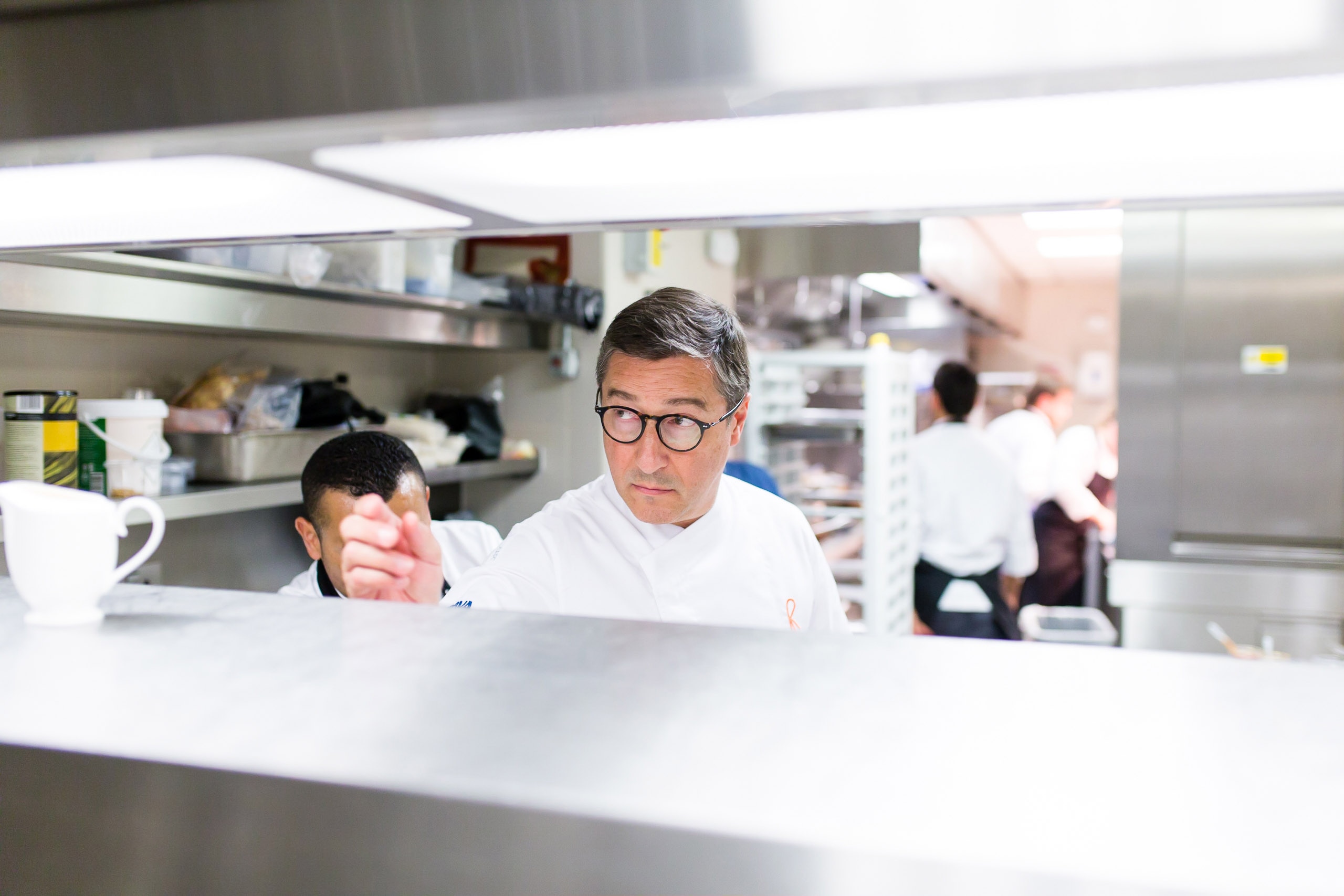 Joan Roca during a service - BBVA
And the creative gears of El Celler never stop moving. "We continue to be enthusiastic about our work, thinking up dishes, in the kitchen, plans for when we return. It's a time that requires patience, but also continued professional creativity," he emphasizes. Meetings have become virtual: "I spend a lot of time meeting with the team, with my brothers, and quite frequently with my colleagues in the business. These video calls have an emotional side to them, more than just looking for solutions to the problems we talk about."
The unknown gaps to be filled, to be solved according to new parameters. The forced closure has compelled a change of attitude about many things. "As a society, we are going to be much more aware of how important healthcare is in general, the resources we have have to dedicate to medical research and to our healthcare system. We are going to be much more united as people, more considerate with those around us and mindful of the environment, aware that recycling, reuse, and protecting our natural resources is a must. We will have a new appreciation for how important the people who work the land and at sea are, the people who source products for us," the chef reflects. An important responsibility that comes with considerable challenges: cooking up the new world we want.