Jordi Roca, elected the best pastry chef in the world in 2014 by the British magazine Restaurant, traveled to Cappadocia during his knowledge-gathering journey to Turkey, the last stage in the 2015 BBVA-El Celler de Can Roca Tour. The Catalonian cook not only enjoyed the amazing scenery and thousand-year-old history of Cappadocia, he also fulfilled one of his brother Josep's dreams by watching how traditional amphora wines are made.
Jordi Roca felt the impact of this experience at different levels: gazing at the scenery in Cappadocia and its thousands of hills and impossible rock formations; traveling through man-drilled houses, shelters and warehouses; enduring the desert heat and the intense cold in one single day; looking at the sky in the fruitless hope that the wind would calm down and he could fly in a balloon; and meeting Udo Hirsch, a warm and chatty German who opened his wine cellar to the chef from Girona.
There, he revealed how he makes additive-free wine in Roman amphoras (some of them are thousands of years old) with only patience and care – "the two most important ingredients to be able to make wine in a place such as this".
Cappadocia, together with Georgia and Armenia, is thought to be one of the first regions in the world to have made wine. Nowadays, modern wine-producing systems are in use but Udo Hirsch, who has lived in this area for almost ten years, is withstanding the passage of time. Stubborn and thorough, he has convinced the Turkish healthcare authorities that clay amphoras are still a hygienic method for fermenting wine without using any type of chemicals.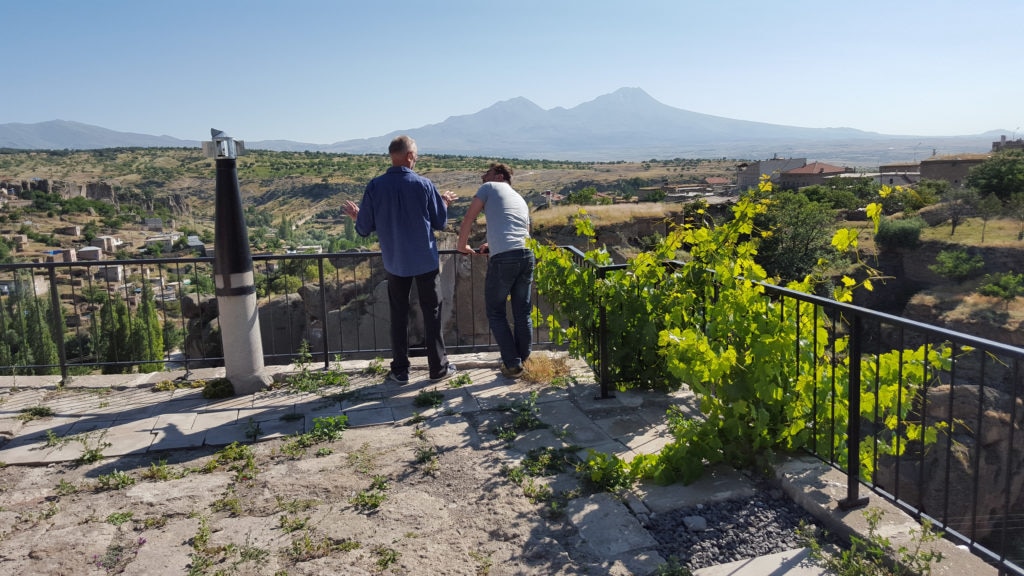 "I work with vineyards around the Hasan Dag volcano, which is over 3000 meters in height. Since this is volcanic ground, we don't have phylloxera and can grow grapes more naturally", Udo explains to Jordi Roca while they walk around his land. "When I arrived here, I realized you could make very good wine so I decided to retire and spend my time enjoying this scenery the quiet and this way of recovering traditions."
In Mensei, a village in the middle of Cappadocia, he produces about 6000 bottles, and about half of these are exported to Europe and Japan. Jordi Roca wanted to know why the production is not increased. "For 40 years, I traveled around the world for professional reasons, so I have already worked enough for a life time", Udo replies.
"I make wine for pleasure but also as a social project: I want to show the families in the area that they can all produce 6000 bottles a year and earn enough to live comfortably."
The vineyards spread across land at 1500 meters of altitude and come from several small producers: "Here, temperature changes a lot and I can apply what I learned when I traveled around the Caucasus, and studied the history of wine and traditional techniques."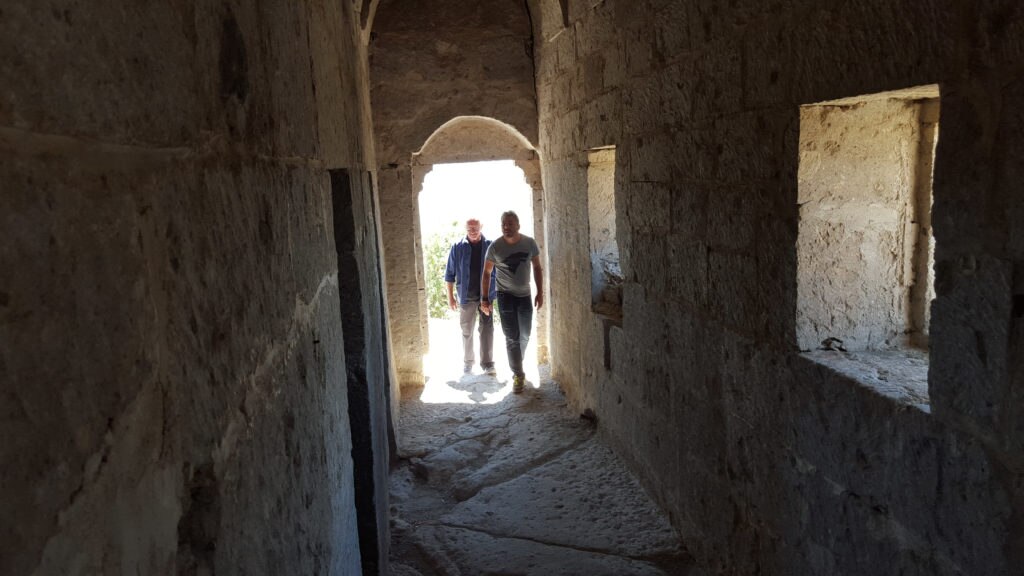 When you walk around Udo Hirsch's wine cellar you reenter a world of old, dug underground, with corridors that are cold in the summer and warm in the winter, and ideal for fermenting wine. His house is a living museum of Cappadocian architecture with secret tunnels crisscrossing the hill.
When he renovated the building, he started digging and found several thousand-old amphoras. The oldest amphora was made 2000 years ago and is still used to ferment wine. Another one of his millenary jewels even allows him to make red wine outdoors: "It's eight centimeters thick, which is a natural way of stopping the wine from freezing, even at 20 degrees Celsius below zero. I see this every year and it still seems unbelievable."
While Jordi Roca is visiting, a group of tourists asks about the wine cellar and decides to buy a few bottles of wine. Wine that is not exported is sold locally or consumed privately. Smiling, Udo Hirsch confesses that when the wine is especially good, he saves it for his visitors and friends. And he believes he will be able to enjoy the scenery, quiet and wine for many years to come.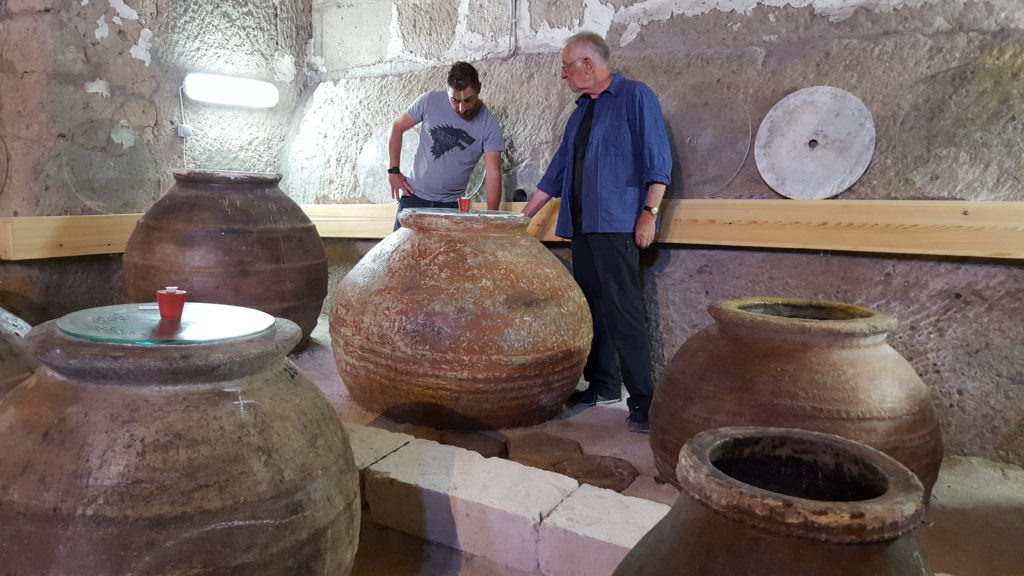 El Celler de Can Roca, currently the best restaurant in the world according to the ranking of the British magazine Restaurant, alongside BBVA, will embark on its second annual cooking tour in August and September 2015. After Argentina, the tour will move on to the United States andTurkey.
Over five weeks, Joan, Josep and Jordi Roca, accompanied by around 40 chefs and waiters from their Girona-based team, will serve more than 2,500 BBVA customers and guests in Buenos Aires, Miami, Birmingham, Houston and Istanbul. They will create a special and a different menu in each country that pays tribute to the local culture and cuisine.
The three Roca brothers have decided to spend the first half of the year traveling thousands of kilometers around Turkey, USA and Argentina to experience the local cuisine first-hand, drawing on their insight into the food they encounter in these three countries to create unique dishes.
The entire dining capacity at all the events will be filled with BBVA's customers and guests in the cities featured on the tour. For information related to attendance at events on the 2015 BBVA-El Celler de Can Roca Tour, please contact directly the BBVA Communication and Marketing departments in Argentina, United States and Turkey. Contact details are available on the respective websites of each country.
Follow the Roca brothers on social networks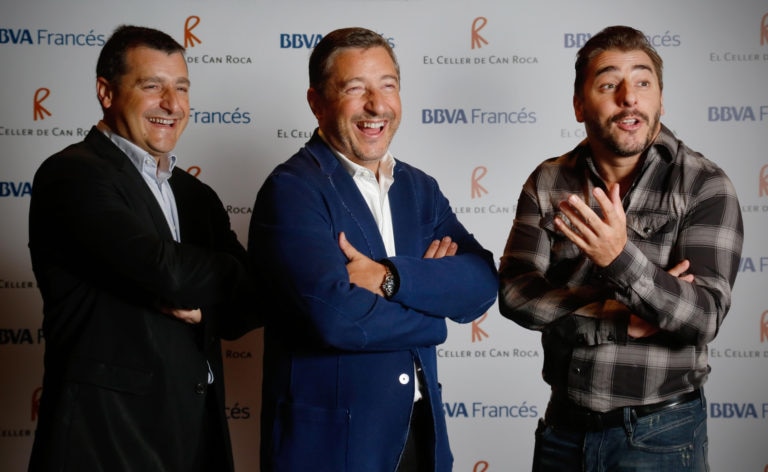 Official webpage
facebook.com/CellerRocaBBVA
instagram.com/cellercanroca
@CellerRocaBBVA