Kick-off of the 8th Edition of BBVA's Integra Awards to promote job creation for people with disabilities
The Integra Awards aim to recognize innovative initiatives that create quality jobs for people with disabilities in Spain. This initiative is part of BBVA's Integra Plan, which stems from its conviction that employment is essential for promoting equal opportunities for everyone.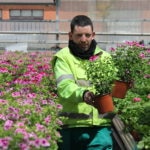 The Integra Awards were created in 2008 with the collaboration of several organizations that work to achieve employment for people with disabilities, such as the ONCE Foundation and COCEMFE, among others. They have all joined forces to support innovative and sustainable initiatives that create value with the aim of promoting quality jobs for people with disabilities. In this way, they want to recognize the work of organizations that generate employment opportunities for a group that has traditionally found it difficult to access the labor market.
This edition is open to all Spanish private-initiative, non-profit associations or organizations with a recognized prestige that work for the disabled and meet the legal conditions established. It is also open to Special Employment Centers, provided they fulfill the requirements set out in the contest rules.
There are 2 categories in these awards. Category A recognizes the work of prestigious organizations that promote the integration of disabled people into the labor market. The winner will receive €150,000. The organizations taking part in this category must prove they have at least 5 years' experience. Category B recognizes innovative projects designed to promote and maintain jobs for people with disabilities. There are four awards in this category, each with up to €25,000. The registration period for this new edition will end on February 29.
Social entrepreneurship plays an important role, as the awards assess initiatives that use business principles to maximize their impact and guarantee the model's sustainability. As in the previous edition, the winning organizations will be able to take part in Momentum Project, as long as they fulfill the requirements. This program by BBVA and ESADE, in partnership with PwC, supports social entrepreneurs with a unique package of training, strategic backing, visibility, support in disseminating their projects and access to financing. Its ultimate goal is to support the participants so they can become consolidated, grow and scale their impact.
The figures reached by these awards speak for themselves. The six editions held so far have granted over three million euros, achieving 700 new jobs for people with disabilities and maintaining around 4,000.