Latin America needs more private investment in order not to be left behind in infrastructure race
Investment in infrastructure is crucial for sustainable growth and development inclusion. However, in Latin America there is a gap between supply and demand for such projects, both in terms of physical and digital infrastructure. To offset this lack of investment, private financing needs to be encouraged.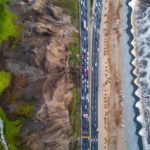 José Manuel González-Páramo's take on the challenges and opportunities of investing in infrastructure in Latin America is from the point of view of the private sector. He does so as an Executive Board Member of BBVA and as co-chair of the B20 financing growth and infrastructure taskforce – the business forum that annually makes recommendations to the G20.
During his participation in the 'Infrastructure for Latin America integration' panel organized by the CAF Development Bank of Latin America, José Manuel González-Páramo explained that private investment needs to breach the gap between supply and demand for infrastructure.
According to figures from the Economic Commission for Latin America and the Caribbean (CEPAL) for 2016, to close this gap, countries in the region would have to invest 6.2 percent of GDP annually between 2010 and 2020, or some $320 billion dollars. In the light of these figures, José Manuel González-Páramo believes it is necessary develop public-private cooperation.
Three conditions for driving private investment
José Manuel González-Páramo sees three conditions for developing private investment:
Develop investment in infrastructures as an asset class. In order to do so requires increasing the flow of products for assets eligible for financing, supporting the creation of investment vehicles and improving the role of multilateral lenders.
Improve the valuation procedures to provide a clear vision of such projects, selecting those that are viable not only from a financially profitable point of view but also taking into account factors such as the social return.
Guarantee a coherent and coordinated regulatory environment, that is, "minimally harmonized". He believes what needs to be found is a regulatory convergence among countries. He underscored the role multilateral organizations can play, in particular the G20.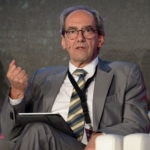 José Manuel González-Páramo, BBVA Executive Board Member, during his participation
The BBVA executive board member emphasized that what is also needed is good projects with the right balance between return and investment risk and which offer sufficient incentives to attract investment.
He also pointed to the importance of investing in technological infrastructure, above all fiber optic and 5G. "Broadband needs to have a worldwide reach," he said.  He emphasized that Latin America needs to improve public access to the internet. "It is a paradox that the cost of using broadband in Latin America is between 2 to 3 times more than in the United Kingdom or European countries as a whole".
José Manuel González-Páramo took part in the discussion with Pedro Grados, chairman of the Peruvian Development Bank COFIDE), and Dyogo de Oliveira, chairman of the Brazilian Development Bank (BNDES), in a debate opened by Rafael Farromeque, an expert from CAF's analysis and sector programming division, and moderated by Carlos San Basilio, the general secretary of the Spanish Treasury.