MAPFRE, the Autonomous Community of Madrid and BBVA issue Spain's first social bond against the coronavirus
BBVA acted as the sole advisory bank and bookrunner in the issue of the bond, Spain's first in support of the public health system and to combat the COVID -19 outbreak. The bond, issued by the Community of Madrid, was entirely by Spanish insurer MAPFRE, will be the underlying asset of MAPFRE Compromiso Sanitario, the three-year asset-backed fund announced earlier this week by MAPFRE AM.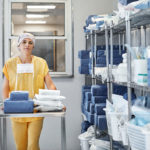 The Community of Madrid is, for the first time in Spain, turning to capital markets to raise funds to promote initiatives in support of the region's health system, given the impact of COVID-19. In the issue of the €52 million 3-year social bond BBVA acted as sole advisory bank and bookrunner. MAPFRE has been the notable investor in the issue, the first in Spain of a social bond following the outbreak of COVID 19.
The Community of Madrid will devote the €52 million raised through this social bond to support the regional health system, under the umbrella of its recently renewed Sustainable Financing Framework, which envisages earmarking funds from the General Budget to finance social and environmental projects. This framework received a Second Party Opinion from Sustainalytics, an ESG rating agency.
Covid 19 is dealing a terrible blow to Spain and the citizens of the Community of Madrid, and this initiative aims to contribute to mitigate the burden that the pandemic has placed on the healthcare sector and support ongoing healthcare operations.
BBVA is firmly committed to keep helping clients access financing by means of instruments whose resources are used to promote green and/or socially responsible projects. In recent years, in the public sector, BBVA has acted as sustainable advisory bank and lead arranger in a number of green and social bond issues by the Community of Madrid, the Basque Country and Navarra, in addition to railway infrastructure manager ADIF AV.
BBVA against COVID-19
BBVA's priorities in this fight against COVID-19 are clear: first, to safeguard the health and safety of its workforce, customers and society in general; the second, to ensure business continuity (banks are considered to be providers of essential services) and, the third one, to keep supporting its clients and customers now when they need it the most.
BBVA considers that banks play a crucial role; they are a key part of the solution. That is why it has stepped up, to help society overcome this situation, through very relevant lines of action: the procurement of critical health supplies and other direct aid; and supporting its customers, both individuals and businesses now, at a time when they most need it, through a number of initiatives, both sector wide and at an individual level.