BBVA's quarterly results were viewed in a positive light by market analysts. The company's attributable profit beat consensus estimates by 8 percent. Perform across all business areas was better than expected, especially in Mexico.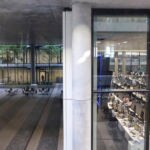 Most analysts had a positive view on the positive trends in recurring revenue lines, especially in net interest income and fees and commissions, and operating expenses. Also on the positive side, provision levels were lower than expected. Regarding the bank's business areas, they all beat analyst consensus estimates.
Following the release of the bank's quarterly report, BBVA's stock climbed 1.31 percent, compared to 0.73 percent of the Euro Stoxx Banks index.
According to analysts, BBVA's quarterly standouts were the following:
Regarding BBVA Group as a whole:
Recurring revenues were the main driver of gross income growth, with net interest income beating consensus by 2 percent and the fees and commissions line by 4 percent.
Cost containment efforts continued bearing fruit, driving operating expenses down, in line with estimates, and keeping efficiency below 50 percent (49.2 percent).
One of the positive surprises of the quarter was in loan loss and other provisions, much lower than expected. Positive risk premium trends were key for this improvement.
Although the fully-loaded CET capital ratio was slightly below consensus, analysts viewed very favorably the ratio's resilience after the volatility that marked the quarter.
Net attributable profit for the quarter (€1.31 billion) beat the consensus estimates by 8%.
By business area:
All geographies beat analyst consensus estimates.
Regarding Banking Activity in Spain, analysts stressed solid performance of the loan book, growth in fees and commissions, cost containment and provisions, which once again were lower than expected.
In the U. S., the standouts were growth in recurring revenues underpinned by higher volumes and the improvement of spreads.
Mexico was the main positive surprise of the quarter, especially considering the uncertainty surrounding the country's electoral process. Analysts were particularly upbeat about recurring revenues and solid provision trends in the region.
Turkey's resilience surprised analysts. Good trends in recurring revenues partially offset higher loan-loss provisions linked to the impairment of the cost of risk in the region.