Mass Receivables Finance: a solution for discounting retail portfolios
Mass Receivables Finance allows BBVA clients to get advances on their accounts receivable portfolios. This solution is aimed at clients with highly pulverized portfolios, where the amount concentration per debtor is very small and the historical behavior is stable and predictable.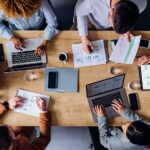 Structuring of Mass Receivables factoring deals begins with the analysis of the portfolio's historical behavior, based on which BBVA offers an acquisition price. Clients can improve their cash position and achieve an off-balance sheet treatment of accounts receivable, which can be both short-term (e.g. accounts receivable derived from services) and long-term (e.g. accounts receivable derived from the installment sale of equipment such as smartphones or solar panels).
Many BBVA clients are already benefiting from this type of structure. Armando Caso de los Cobos, Treasury Manager of Orange Group in Spain, tells us about his company's experience.
Question: As an expert in financial and working capital strategy, what banking tools do you consider to be essential to be able to face the challenges of a treasurer regarding working capital management? How have you benefited from Mass Receivables Financing?
Answer: One of the key objectives of a company's treasury department is to improve cash flow by optimizing working capital. In that regard, tools for agile and flexible monetization of accounts receivable, ensuring off-balance sheet treatment, are of vital importance.
Mass Receivables Financing is an operationally innovative and easy to implement solution that has allowed us to monetize long-term receivables, derived from the installment sales of phones to our customers. These had a relevant weight on our balance sheet, and discounting them has positive effects on the company's cash flow.
Finally, working together with legal teams, auditors and the bank is critical for the success of the transaction.
Question: Do you see the use of Mass factoring as a substitute for consumer finance or as a complement?
Answer: In our case, we have used it as a complement. Both solutions can survive together as they bring different things to the table. Financing some of these sales through factoring gives us extra flexibility.
Question: BBVA always seeks to be at the forefront of new trends and this means being in communication with our clients. In your opinion, what direction should the solutions offered by banks take?
Answer: Operational simplicity, agility and flexibility are, to our mind, essential qualities in this type of financial solutions. In addition, banks must know the company's strategy, its needs, both from the perspective of the business and ESG (social, environmental and corporate governance factors), and offer solutions that adapt to said strategy.
BBVA Global Transaction Banking's portfolio of working capital solutions is always changing,incorporating new capabilities and developing new products that allow us to anticipate the needs of our clients, and to offer them innovative and tailor-made solutions.