Meet Cristian Vega, the heart of the bank's Mobile Banking app
The BBVA Compass Mobile Banking App is now in its ninth year, and the award-winning app continues to improve functionality with each new release, including its latest update announced last week.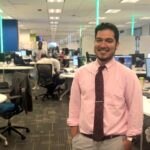 Head of Online and Mobile Banking Alex Carriles points out that "it's not just functionality for functionality's sake. We add tools that our customers have told us they want and need in order to manage their financial lives." And it's app developers like System Programmer Cristian Vega who continue to develop the app with features that are useful and meaningful to customers. Vega is one of the top talents the bank boasts as it continues its focus on digital transformation.
We spoke to him about his role, what attracted him to BBVA Compass, and how the bank continues to support his professional growth.
What area of the BBVA Compass Mobile Banking app do you work on?
I've helped integrate our Online Account Origination (OAO) system into the app, which lets people open a checking or savings account, credit card, or personal loan through the app. We want to empower customers with products and tools that they can access in minutes and use to improve their financial lives.
What has been your proudest moment as an app developer?
For me, it's seeing proof, in the form of data, that we've developed functionality that customers want. OAO is a perfect example of that. Integrating OAO into the app started as just an idea based on customer feedback and our own market research. After launching this new functionality, we can clearly see from the number of accounts opened through the app that our customers love this new feature.
What can a bank offer software developers?
BBVA Compass has done an amazing job of breaking down the barriers between banking and technology. There's a real commitment to using cutting-edge tech and ideas in our products. The Brock Service Center (in Birmingham, Alabama) has the same vibe as a large tech company like Facebook or Google. Even the collaborative work pods here make me feel like I'm walking into those headquarters. And to me, what BBVA Compass has to offer, in terms of opportunities to learn and tap into new technologies, is on par with those companies.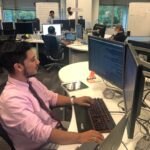 Cristian Vega, BBVA Compass System Programmer
How is BBVA Compass supporting your professional growth?
BBVA Compass allowed me to work and be enrolled in Western Governors University full time. If I needed to fit a class into my schedule or take a test during the day, my manager encouraged me to do it. A flexible environment might come as a surprise to those who think of banking as "stuffy," but BBVA Compass recognizes that flexibility is conducive to innovation and growth.
I also get to participate in the Ninja Project, a global initiative launched in Engineering that promotes a culture of continuous learning and self-development. I've had the opportunity to share my knowledge in workshops and attend trainings that have introduced me to new technologies, like Artificial Intelligence. If I want to get certified in a program, I have time to complete the training during my workday, and I'm reimbursed any out-of-pocket costs for approved certifications and MOOCS (massive open online courses). There's no excuse not to learn.
What advice would you give someone who's interested in becoming an app developer?
Don't box yourself into a specific skill set. Most companies, especially BBVA Compass, want engineers who can think and solve problems. Programming is daunting at first, but if you stick with it, you'll discover just how fun and rewarding it can be.