The Microfinance Foundation's "Amigotchi" is ranked as one of the most innovative social initiatives in 2016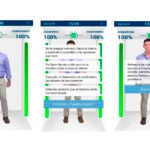 Simón is responsible for training employees at the BBVAMF. His task consists of supporting workers, attracting their attention and setting examples of real situations for them to resolve. When he receives a response to the problem posed, he gives his impression of the employees' management and advises them on how to improve their performance.
Simón could be a just another trainer, but he has one feature that sets him apart. He's the virtual protagonist of "Amigotchi", a mobile app based on gaming methodology used by the BBVAMF to train its teams in management. This tool not only helps employees solve problems, but also trains and develops the skills they need, such as identifying strengths and weaknesses, contributing to the team's development, motivating, conveying group and individual messages and resolving conflicts, among other functions.
The program ends after four weeks and requires a dedication of three minutes a day. It is specifically designed so that employees can use it flexibly, as they have very heavy workloads and only a limited amount of time available. During the training period, the users can compete with other workmates and see their progress. At the end of the program they receive information showing the results of their skills, along with details of their strengths, weaknesses and areas for improvement.
Thanks to this app, the coordinators and branch managers responsible for working in the field with the people who are served by the BBVAMF have a tool for innovative training. "With this program we want to help our middle management to train high-performance teams that materialize our mission ever more effectively", explains Fabián Goldberg, head of the Foundation's Microfinance Campus. In this case mobile technology is the best ally for employees working in geographically disperse places.
Compromiso Empresarial noted that the BBVAMF app develops team management skills and contributes to reducing the turnover of employees in offices and organizations.