More than 700 people collaborate with BBVA Next Technologies to create digital business solutions
More than 700 people have responded to BBVA Next Technology's invitation to participate in Tech4Change. The initiative is grounded in a spirit of solidarity and seeks collaborators who want to contribute to the development of two technological solutions, both of which have been conceived by BBVA employees with the goal of helping small businesses weather the COVID-19 crisis. Over the coming weeks, the assembled teams will work together on two solutions: a platform that allows small businesses to manage orders from home and an application that cuts down on customer traffic in establishments that provide essential goods or services.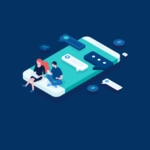 In just 48 hours, more than 700 people registered on the BBVA Next Technologies website to participate in Tech4Change, an open innovation program created by the bank's advanced technology company. Calling on a spirit of solidarity, the initiative has been created to develop digital solutions to help address some of the challenges related to the confinement measures that have been implemented in response to the COVID-19 pandemic. With this goal in mind, BBVA Next Technology selected two projects (out of more than 20 proposals submitted by employees). BBVA Next Technology employees and registered volunteers in both Spain and Mexico will work together to bring these ideas to fruition.
"For this initiative, we decided to combine our internal Quickstarter innovation program with Next Solidario, our platform that promotes activities that generate positive impacts for society. The aim is to help users get through their day-to-day during the lockdowns that have been imposed as a result of the COVID-19 crisis. To this end, we wanted to complement the technical expertise of our teams with external talent. We are extremely pleased with the positive reception the initiative has had, and we want to thank everyone who enrolled to participate in order to help get these ideas off the ground as quickly as possible," Gonzalo Mosquera, Head of the program at BBVA Next Technologies in Spain, explained.
The initiative has focused on leveraging digital tools to look for practical, short-term solutions in response to problems that have arisen out of the pandemic. The two ideas that the teams are already working on are:
1. Distance ordering
The first challenge Tech4Change is working on is the creation of a platform to provide those small businesses that don't have the required infrastructure — fruit shops, markets, and pharmacies, for example — the support they need with the logistics, the payment gateway, and the delivery capability in order to be able to fulfill online orders.
The idea is to help them continue operating during times when there is increased demand for home-delivery services. For those businesses that already have systems in place, the initiative proposes to give them the support they need to ensure their business continues to function as it should and security issues do not become a threat.
2. Zero-wait shopping
The second project Tech4Change is leading is the creation of an application that lets users check how crowded nearby establishments (supermarkets, pharmacies, and other essential businesses) are. The objective is to cut down on in-person waiting times and reduce potential exposure to COVID-19.
The platform will be based on data available from Google and will use the app users' postal code to show them the numbers of people in the establishments closest to their homes.
Prototype development
Two teams have been assembled to develop these platforms, and they are already working together to launch the solutions. They will have until April 30th to develop working prototypes. Afterwards, BBVA Next Technologies will evaluate the viability of the projects; it will lend whatever support is needed to launch the platforms, bringing them to market as quickly as possible.
"With this initiative we want to use our technical expertise and experience for the good of society, taking advantage of the digital tools that are available and the internal structure we have built within the company, a structure that fosters a culture of continuous innovation. This puts us in a position to be able to do our part in fighting the global crisis," Miguel Castillo, who heads up the program at BBVA Next Technologies in Mexico, added.