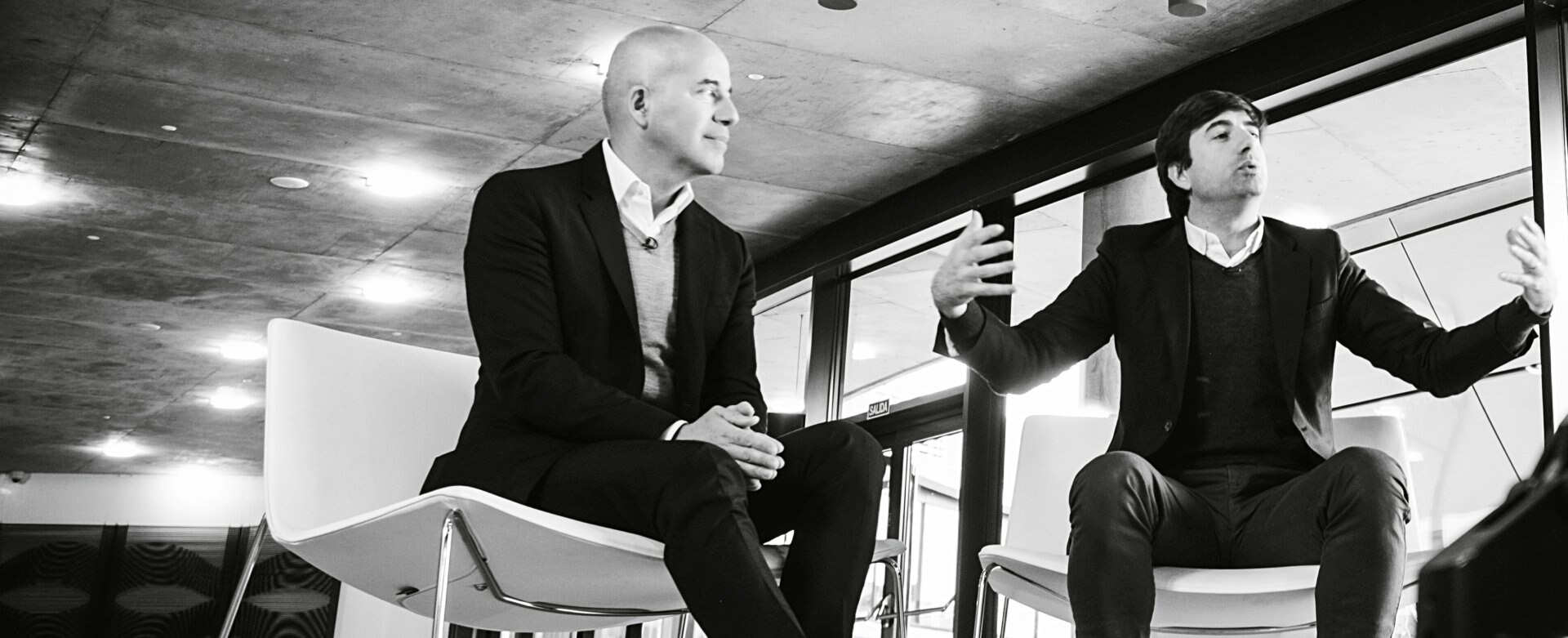 "The new tagline invites people and companies to pursue and identify the opportunities this era brings"
Creating Opportunities is the BBVA Group's new tagline. After a decade, 'Adelante' is giving way to a new tagline that fits with the bank's new purpose: To bring the age of opportunity to everyone. In this interview, Carlos Ricardo, the BBVA Group's Marketing Director and Brand Director Carlos Pérez Beruete explain the process that led to the new tagline. It will also be accompanied by a new image, identity, sound and value proposition. "2017 will be the year that consumers clearly see how the bank has been transforming in recent years," they say.
Question (Q):   What was the process to come up with BBVA's new purpose and tagline?
Carlos Ricardo (CR): The process to develop the new purpose actually started a little over a year ago when the CEO Carlos Torres Vila invited BBVA employees to contribute their ideas and suggestions on a Google+ community. It was fascinating because more than 28,000 employees in all the countries participated by sharing their ideas. We collected them and learned about the history of the brand and how we should define where we are now…  There were used so many comments and suggestions to help determine the purpose, which is to bring the age of opportunity to everyone.
Carlos Pérez Beruete (CPB): What we wanted to do with the tagline was to take that information, everything the company's employees had contributed, and interview customers in all our markets to ask them which of the different options we had come up with was the best, the most relevant, stood out the most, and created the closest emotional connection to BBVA.
Carlos Pérez Beruete: "Consumers were at the heart of the entire process. It was finally determined that Creating Opportunities would be the tagline that would best convey our purpose
CR.: It was a highly collaborative process because we also invited the marketing teams from the countries where we have a presence to suggest the phrase or tagline that would best express our purpose. They offered suggestions that reflect the specific nature of each country. This led to several phrases that we used in our research to determine the best options – both in terms of fitting with the purpose and in terms of standing out and being the most relevant to each location.
Q.: What is the raison d'être of a company's purpose?
CR.: We live in a world where consumers have an increasingly active voice in companies' brands. The arrival of social networks allows people to participate even more and demand that companies be more transparent and explain their role in society. In other words, what does the company actually contribute? What is the real reason behind a brand and a company? Companies are trying to define their raison d'être. And there is growing evidence showing that people are very interested in knowing what's behind the products and services a company sells – its essence and the reason the company exists.
CPB.: And it's much more difficult to connect with customers emotionally without a purpose or raison d'être. It is increasingly important for brands to generate that connection in order to offer the products and services customers want. It is much more than just being good. They really need a purpose.
Q.: What does the new purpose, 'To bring the age of opportunity to everyone', mean for BBVA?
CR.: It means so much. First, we understand it as a way to transmit everything we have in terms of available products and services so that people can make the best financial decisions in their lives. "The age of opportunity" is an expression that defines the current period very well. Times that are not defined by technology, but by the benefits technology brings society and people. And the best benefit is the opportunities this age provides. For example, a student in Cuzco, Peru, a worker in a factory in Mexico, a student in in Cordoba, Argentina or the director of a SME in the U.S. all have access to the same information as a student at Harvard or MIT. It is a fascinating world in which information is available and allows all of us to pursue our dreams and desires thanks to the information technology puts at our disposal. It is a world of opportunities that we have defined in this expression and whose spirit is captured in our purpose.
The word "everyone" is also very important to our purpose. It's a very special word because it means that not just business executives, but also small businesses, large corporations and entrepreneurs. We wanted to make sure we also included the idea that the bank develops products and services for customers of all shapes and sizes
Q.: Does Creating Opportunities represent the evolution of Adelante, or a break from the previous tagline?
CR.: Years ago, Adelante invited society to move forward and get to know the new world. Creating Opportunities is a tagline that invites people and companies to pursue and identify the opportunities this era brings. It is a very interesting evolution. It's also an invitation, but definitely an evolution.
CPB.: It's a tagline that expresses the bank's role as a facilitator to help people access the opportunities that emerge every day. We saw that the tagline Adelante was starting to get somewhat worn out after 10 years of heavy use. We needed a tagline that would help us with the transformation process taking place in the bank and in society. We asked consumers how they saw both Adelante and Creating Opportunties in today's transformative context. And consumers told us that Creating Opportunities would help us to communicate that entire transformation process more effectively and emotionally, and that it was catchier.
Q.: How does the new tagline fit into the BBVA Group's overall brand strategy?
CPB.: The tagline is one more component that will help us communicate everything BBVA is doing. But it is not alone. It comes with an updated image, identity, sound and value proposition that will allow us to better capture what society is currently demanding companies to be. Banks' capacities will have to evolve if they really want to meet the needs of these consumers. Creating Opportunities is part of an effort to show how BBVA is profoundly changing the way it does things.
CR.: It will also have a very significant impact on the type of advertising and marketing messages we use in the different countries. We will see campaigns with greater meaning and more use of our purpose – campaigns that can communicate much more than the benefits or advantages of a certain product. We will see the impact of this in the coming years. In other words, a phrase or purpose doesn't mean anything if the people at the bank, if all of us don't work together to create content that truly connects with our purpose. In this regard, it will be very interesting to see the efforts of the marketing teams in the different countries to develop campaigns that really connect with our purpose – campaigns that explain how we are actually launching products and services that are capable of offering people more opportunities.
CPB.: The tagline is almost like an empty vessel that we will fill with the other actions and communications about the products and services the bank launches in order to convince consumers to choose BBVA as their main financial institution. We are going to fill the Creating Opportunities container with all the capacities and value propositions we develop in the coming years.
Q.: How does this new tagline help the BBVA Group's transformation?
CR.: It helps us a great deal. The purpose and tagline help us create more meaningful communications that make much more sense. It's our big raison d'être. The countries' marketing and campaigns will explain how we are bringing these opportunities to society. A great example is BBVA Spain's recent campaign "The revolution of the small things'. "To bring the age of opportunity to everyone" is the reason and the way we are going to develop and provide products and services for society that help in this transformation. The campaign in Spain is a very good example of how we communicate the different products and the bank's enormous digital transformation in a much more relevant and interesting way.
Carlos Ricardo: "The purpose and tagline help us create more meaningful communications that make much more sense. It's our big raison d'être
CPB.: In a way, it helps us to see if what we are doing is in line with our purpose. At the end of the day, as a company, we want to facilitate decision-making for both financial issues and in life. The more our products and services and customer service are aligned with our purpose and tagline, Creating Opportunities, the more we will accelerate the transformation process.
2017 will be the year that consumers clearly see how the bank has been transforming in recent years through new products, experiences and services. We want to reinforce this change in our brand and in our communications with a new identity, tagline and new messages that will help us make BBVA's profound transformation more visible.
You may be interested in these stories