Onur Genç emphasizes BBVA's commitment to its digital transformation in London
On Wednesday, BBVA CEO Onur Genç underscored BBVA's commitment to continue advancing in the Group's transformation process. Speaking to a group of international investors, he also emphasized BBVA's strengths —both globally and by business area— in markets like Mexico and Turkey.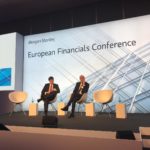 Every year, investors from around the world attend the meeting organized by Morgan Stanley in London - one of the biggest conferences in Europe for the finance industry. The Morgan Stanley European Financials Conference also represents Onur Genç's debut as CEO of BBVA at an event with international investors. Onur Genç joined BBVA CFO Jaime Sáenz de Tejada in a debate on the BBVA Group with a Morgan Stanley analyst, as well as several group meetings with investors.
In his speech, Onur Genç reviewed the main elements of BBVA's digitization strategy and the bank's purpose: to bring the age of opportunity to everyone. He also focused on the strengths of BBVA's business model and its prospects for the future.