Onur Genç: "We must provide differential value to our customers and society as a whole"
In an opinion piece published by the Spanish daily newspaper 'ABC,' BBVA CEO Onur Genç asserts that Spanish banks are recognized international leaders in the sector, not only because of their financial solidity and global reach, but also because they have spearheaded the transformation of the industry.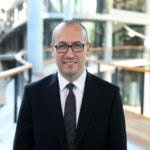 Just a year after arriving in Spain, Onur Genç addresses the current banking environment in  an op-ed piece entitled 'Prepared to confront the challenges and embrace the opportunities of a new age.' He describes a landscape characterized by challenges like economic uncertainty, Europe's negative interest rates, and the emergence of new classes of competitors: both technological behemoths and upstart startups.
Genç maintains that BBVA is uniquely placed to disrupt these challenges, thanks to both its global position of leadership and its groundbreaking experience in digital transformation. "We must provide differential value to our customers and society as a whole," he explains in the opinion piece. "To achieve this, we must proactively respond to the increasing commoditization of our industry, helping our customers make better decisions by delivering value-added financial advice founded on their trust."
BBVA's CEO also emphasizes the bank's ability to mobilize resources and channel them towards the creation of a more sustainable and inclusive society. According to Genç, this is the role banks need to assume.
He also believes that the banking sector must continue investing in the digitization of processes in order to increase efficiency, but more importantly, to improve the customer experience. "To accomplish all of this, it is fundamental that we put technology and data to work for us. Still, we must never overlook the human aspect. Trust and empathy are the foundations on which a deeper customer relationship is established," he says.