OpenMind and BBVAOpen4U highlight the role of great women scientists and programmers throughout history
Women have historically been undervalued as scientists, many of whom saw their discoveries overshadowed by those of their male colleagues. This same disparity can be seen today in the technology sector. So OpenMind and BBVAOpen4u wanted to pay homage and raise awareness of the work of women in fields where men still predominate.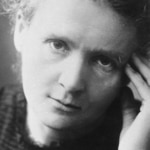 Marie Curie is perhaps one of the few women scientists who are not affected by the stigma of invisibility. Born in Poland in 1867, where women were not allowed to study for university degrees, she moved to Paris where she enrolled in physics, chemistry and mathematics at the Sorbonne. This marked the start of her legend, of which OpenMind gives a good account in this article. Curie was a pioneer in the field of radioactivity, and received two Nobel prizes in the different categories of physics and chemistry. This report recalls her as one of the most important figures in the history of science, and offers some interesting insights, such as the fact that her laboratory notebooks still continue to be highly radioactive today. It will take 1,600 years to consume half of the radium to which they were exposed.
However other equally brilliant women scientists have also been unjustly overlooked. As revealed by OpenMind in its report entitled "Great women scientists left in the shade", gender discrimination, competitiveness, the respect for hierarchies and the weight of established scientific knowledge all contributed to undermining the revolutionary ideas of these great women. BBVA's knowledge community highlights figures such as Emmy Noether (1882–1935), whose theorem saw its 100th anniversary in 2015. It tells the story of the astronomer Cecilia Payne (1900–1979), who discovered nothing less than the composition of the Sun, and yet whose career was hindered by gender discrimination, particularly in her native England. The Austrian physicist Lise Meitner was, according to OpenMind, the most brazen case of a scientific discovery made by a woman and ignored by the Nobel Prize committee. There are two current cases on this list. One is Marthe Gautier who at the age of 90 continues fighting for recognition of her role in the discovery of the cause of Down's syndrome; and the other is Jocelyn Bell who chose not to make a fuss after her exclusion from the Nobel Prize for physics in 1974. These articles in OpenMind highlight their work and underline their importance in the world of science.
BBVAOpen4U also wanted to pay homage to the women who work in the field of technology and programming, a sector in which they are seriously underrepresented. This infograph reveals worrying data such as the sharp decline in the presence of women in this field from 1980 (when 40% of programmers were women) until the present day (14%). The website commemorates towering figures such as Ada Lovelace, Grace Hopper, Margaret Hamilton and Danese Cooper, all great experts in their field and discoverers of key advances in the field of technology.