"Our actions have always been in the best interest of the bank and its shareholders"
BBVA Group's executive chairman referred to the Cenyt case at the 2020 Annual General Meeting, which was held on March 13, 2020. This is a transcript of what he said at the meeting.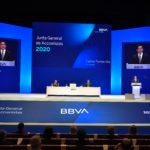 As I have already said in my presentation, this is a case that is under a judicial investigation. Having said that, I would like to comment on our actions in the process, which have always been in the best interest of BBVA, in the best interest of the bank, in the best interest of our shareholders.
In this sense, the bank's governing bodies, starting with the Board of Directors and its committees set as a priority from the beginning to fully cooperate with the judicial authorities in clarifying the facts.
In order to contribute to clarifying the facts, PwC was hired through an external legal counsel to proceed with an objective, profound and thorough forensic analysis, whose scope include the whole period of the business relation with Cenyt. I would like to emphasize that this was a voluntary investigation.
As I said from the beginning, the Board decided to cooperate fully with the authorities. This is a fundamental issue in our legal action.
This cooperation has translated, among other things, in providing authorities with abundant information; the compiled document database; keeping open our investigation for additional searches decided by the judge; and a court testimony for more than 15 hours, answering extensively all questions from the judge and prosecutors.
In conclusion, we are intensively cooperating because cooperation is the best way to defend BBVA's interest in this process.
I would like to underscore that the fundamental investigation, the one that prevails over any other initiative, is the one being carried out by the Spanish High Court, which must elucidate what happened. I already shared this at last year's AGM and, despite the time since then, the process is still in a very early stage. In this preliminary proceedings it would be premature to speculate about any possible consequences, including an estimate of provisions in our accounts. Such is the case that in fact, being declared as an investigated party does not imply that a formal accusation for any crime has been made. We must respect the rights that both individuals and legal entities have. Justice has its own deadlines and it's important to let the courts do their work, and not make parallel judgments.
As you know, we have always pleaded that BBVA bears no responsibility for the facts under investigation. In the future, we will continue to act with full determination and diligence under the leadership of the Board of Directors, whose members have no connection whatsoever with the case.