Peio Belausteguigoitia: "One out of every five new or switching customers chooses BBVA"
BBVA's country manager in Spain, Peio Belausteguigoitia, spoke on Wednesday to underscore the bank's excellent performance in Spain, driven by a strategy of healthy organic growth via customer acquisition and strong progress in almost all line items of the income statement. Speaking at the UIMP summer course hosted by the APIE and BBVA, Mr. Belausteguigoitia stressed that one out of every five customers who open an account for the first time or decide to switch banks chooses BBVA. As a result, the bank ended 2022 with a record intake of new customers, while the figure for the first five months of this year is already close to 500,000.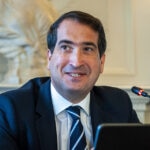 Peio Belausteguigoitia opened Wednesday's session of the 40th annual APIE Seminar in Santander, Spain.  BBVA's country manager in Spain reviewed the current macroeconomic context in Spain, where the BBVA research department expects growth of 2.4% in 2023.
In this environment, the European banking sector has a robust financial position, with capital and liquidity ratios that have been greatly strengthened since the last crisis and non-performing loans at very low levels.
He also noted that BBVA's performance in Spain is excellent. In the first quarter of the year there was a positive trend in almost all items of the income statement.
Mr. Belausteguigoitia reviewed some of the figures: the share of revenue generation is well above BBVA's natural share; the most profitable portfolios, consumer credit and corporate lending, continue to perform well; and cost-to-income and efficiency ratios have improved. BBVA's country manager in Spain emphasized that this performance is the outcome of a well-established strategy that has yielded excellent results and will continue to do so in 2023.
BBVA leads the industry in customer acquisition
Mr. Belausteguigoitia was especially upbeat about BBVA's performance in customer acquisition. The bank's multidisciplinary team implements a strategy for all channels, but with a focus on digital acquisition, which accounts for 50% of new sign-ups.
BBVA ended 2022 with more than one million new customers (+11% vs. 2021), making it the market leader in customer acquisition, with a 19.4% share. This means one out of every five new or switching customers chooses BBVA. In the first five months of 2023, the number of new customers reached 476,000. With regard to loyalty, the country manager recalled that within six months of joining BBVA 73.4% of new customers had already established a close relationship with the bank.
Mr. Belausteguigoitia reminded the audience that 2022 was also a great year in the number of new SME customers, with 50,000 new business account openings. In the first five months of the year, the bank has acquired 31,000 new SME customers. The forecast is to attract more than 75,000 SMEs by year-end 2023.
BBVA's country manager in Spain stressed that another of the key levers of the bank's growth strategy is sustainability, tied to the decarbonization of client's activities and the wider economy, and, crucially, innovation.
At a global level, BBVA is involved in around 600 data projects and has grown its project portfolio eightfold in the past three years. In Spain alone, the bank is working on more than 150 projects. Many of these projects are undertaken by the AI Factory, a cross-functional and multidisciplinary team that the bank created a few years ago in liaison with the business units. In total, the bank employs more than 100 data scientists in Spain.
To wrap up his speech, Mr. Belausteguigoitia reminded the audience of the vital role that banking plays in countries' economic and social development as a necessary intermediary between the diverse economic agents.
The core business provides finance for projects that address society's major challenges by mobilizing savings toward productive investment and strengthening economic and social growth with credit as a driving force.