PPP Pitch-In Series: The Business Relationship Services team steps up to the challenge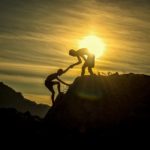 This meant processing, and ultimately funding, those applications was going to be a herculean task for employees across the country with those responsibilities. Reinforcements and support came in all forms from other bank team members, ones who needed to be trained quickly to make an unprecedented operation run as smoothly as possible.
One of those teams was the Business Relationship Services (BRS) team, led by National Manager Andrew Martin. Below is a Q&A with Martin on how his team helped with the bank's PPP efforts, while also succeeding in their own area of work:
Can you give me an overall view of your team's accomplishments over the past few months?
In addition to the team's PPP efforts, April overall was one of the busiest months we've ever experienced. First, the team set records in four different categories, and not by a small margin. All of the records set exceeded previous highs by nearly ten percent or more, and two of them had just been broken in March. I cannot put into words how proud I am of the entire team. Everyone came together without any hesitation and jumped in head first with tremendous effort.
How many people from the BRS team chipped in?
Everyone on the team played a huge role in managing the volumes we had in April. Establishing PPP accounts on a rush basis accounted for a little less than half of the new accounts we opened in April. Our normal run rate for new accounts is a large number as it is, so even without PPP we were all very busy.
How is your team's responsibilities different from how they chipped in?
Our primary focus was getting all the PPP accounts opened as fast as we could. Although opening accounts isn't new for us, the pace and volume of what we experienced was like many other departments, well beyond normal. Much like other areas of the bank we had multiple people working weekends and late into the night to ensure accounts were opened as fast as possible.
Was working from home a tough challenge for your team as they did this and their usual responsibilities?
Working from home is a new environment for everyone in the group. The transition was very difficult because we not only had to remain ready to take client calls and support them through their own work-from-home transition, we had to change our own work habits and abilities. Adding this transition to the previously mentioned April volumes makes the team's success just that much more amazing.
What was the overall morale of the team during this uniquely difficult time?
The entire team really put their heart behind this effort. We're all struggling through this scenario, but they all put their own needs aside to focus on our clients because they knew what these funds meant to them.