The present of mobile banking: six application to get into mobility
Mobile banking is not a service of the future: little by little it is becoming a part of the present. On a weekly basis, almost 25% of users in the United States already use mobile banking while only 14% go to a branch office. And proof of the above are the numerous apps flooding e-stores to offer financial services. The following is a selection of some of the most prominent ones.
This is an app for querying designed to work with any bank, In other words it complements and offers services to the user so that the latter may supervise operations with his or her traditional bank, including if there is more than one, from the mobile. It is a multi-bank app as it works with any entity.
It use is very straightforward: the profile is created using one's e-mail address and within seconds all the banks with which the user has accounts and the cards he or she maintains are connected. Access is by using the identifier and password of the regular entity. The app therefore makes it possible to control money from a single place, organizing it under categories selected by the user.
Data travels encrypted with the 256-bit banking security level used by leading banks. In addition, anonymousness is guaranteed, given that in order to register and operate you only need an e-mail and, once inside, all is managed by an algorithm, not humans. No-one has access to the movements of a user.
The app is available in the App Store and Google Play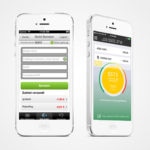 Finance and social networks It was six years ago that this German company created this app, in which the user can monitor his money, order transfers and request loans almost in real time. The app provides the user with his or her own e-wallet without need for downloading another application to share common expenses with a group of friends.
One of its qualities is the community that has been generated between its users, in which they share anything from tips on saving or recommend financial products that they want to promote in the entity. "The customers know each other and interact". This is the crux of its philosophy: users can exchange opinions, information, and experiences to improve financial decisions.
In order for this community to operate, Fidor Bank employs the gamificationstrategy: customers are rewarded for this dialog and all of their activities through a bonus system. The system already has more than 300,000 users.
Available for iPhone and Android.
This app makes it possible for users to open a bank account directly from their Smartphone, from which they can order transfers and even make deposits. Moven accounts are backed by CBW Bank, a member of the Federal Deposit Insurance Corporation (FDIC), and their debit cards by MasterCards.
One of the strong points of this app is its user experience, given that this app makes it possible to see updates in real time as well as receive spending alerts and analysis or send money via Facebook, e-mail, or a mobile phone number. All with a simple, attractive, and very usable interface.
This app also helps customers in management issues, by offering to them not only access to the expenses they are making in real time, but also by undertaking automatic expense analysis and comparisons to let them know if they are spending more than usual, given that it automatically analyses use and expense patterns.
This application is available for iPhone and Android.
"The future bank branch office is the smartphone," declares Valentin Stalf, Number26 founder and CEO. And the key to this forecast is the flexibility afforded by the mobile phone. The Number26 app makes it possible to undertake operations in real time, with an example of such efficiency being the opening of bank accounts: "the fastest in Europe, in less than eight minutes" and from a smartphone. The identity of the user is verified with a videoconference call, so that no printed documentation is needed. From that point forward all transactions may be carried out instantly from the same phone number, with account status notifications as soon as an operation is executed.
One of the points on which this app has focused is security, which can be configured in a personalized manner from the phone to improve control of the app. The objective is to offer transparency and account control through push notifications for every operation taking place on the account.
Available for iPhone and Android, for now in Austria and Germany.
The challenge of mobile banking is to create a "bank without offices" and they have achieved it. One of their objectives is to help the customer save using a tool that balances ordinary monthly expenses using an algorithm that analyzes the operations of each customer. It amounts to a direct accountant from the smartphone, automatically subtracting usual expenses (rent, invoices, supermarket purchases) and offering a "more real" balance.
Just a year ago, this startup was acquired by Grupo BBVA, but it continues to operate as a mobile bank.
Available for iPhone and Android in the United States.
This US mobile bank focuses on check-based financial operations. The app allows its customers to scan and deposit checks instantly, without need to travel to a branch to deposit it. In addition, it also makes it possible to pay one's rent, make P2P payments, and manage money deposited into the account.
It combines the financial advantages of mobility with traditional banking, as it allows it customers to deposit cash at Wal-Mart branch offices. It has a network of over 42,000 commission-free ATMs in the United States.