Old, medieval or Roman towns inspired Swiss architects Jacques Herzog and Pierre de Meuron's design of the new BBVA headquarters in Madrid, which they describe as a "workplace for the future."
"The campus has an atmosphere that fosters the feeling of being in a new town with lanes, streets, plazas and gardens, new buildings and old ones, rules and exceptions," explain the architects in an article written for the book Reinventar la empresa en la era digital (Reinventing the Enterprise in the Digital Era) at OpenMind.
When the Priztker Award 2001 winners decided to take part in the bidding process convened by BBVA in 2007 for the construction of its new corporate Headquarters in Madrid, they chose a design drew inspiration from the geometric feel of Moorish gardens.
To twitter
Herzog & de Meuron: The BBVA headquarters are at once a single building and a multifaceted town.
Within the overall concept, the architects single out two architectural elements: The central plaza, that provides a place for gathering and La Vela, a high-rise that inscribes BBVA in the skyline of Madrid and also serves as a point of orientation from within the town. And a philosophy: the human dimension and the connection between people and buildings. "In contrast to most campuses, comprised of single buildings laid out in one way or another, the BBVA headquarters are at once a single building and a multifaceted town", say the architects.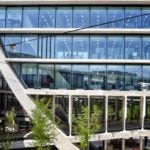 The seven low-rises account for 83% of the surface area, are narrow, establish a more personal environment in contrast to traditional open-plan offices and the largely transparent façades allow for visual connections between the buildings. "Interior and exterior spaces overlap; the distinction between them is blurred. One can look through the complex from one end to the other," emphasize the architects.
Their goal was to "generate the sensation at every workplace that the complex is one large whole, that the departments of the bank, even when they are housed in different buildings, all belong together, like different parts of one and the same body," they explain.
World-class architects
Herzog & de Meuron is a prestigious Swiss architecture firm founded by Jacques Herzog and Pierre de Meuron in 1978. The studio has been growing ever since, and now has over 350 employees and has incorporated architects Christine Binswanger, Ascan Mergenthaler and Stefan Marbach as senior partners.
In 2001, Jaques Herzog and Pierre de Meuron were awarded the Premio Pritzker, the most prestigious award in architecture.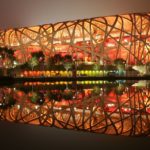 The firm has tackled a wide range of projects, from large urban designs to small private residences. The most renowned projects are the Tate Modern in London, the Beijing National Stadium (also known as "the Bird's Nest"), built for use throughout the 2008 Summer Olympics, or the Pérez Art Museum in Miami. The architects have also designed several private projects, such as manufacturing plants, office buildings and housing complexes, including the groundbreaking 1111 Lincoln Road parking garage in Miami Beach.