There was no spider bite, fear of bats, Planet Krypton birth or iron suit needed for a group of BBVA Superheroes to rise to a unique challenge. That challenge? Continuing branch operations in a time when finances are at the center of a never-before-seen crisis.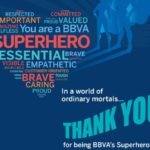 In what it called its Superhero Salute, BBVA USA recently recognized its branch employees for working in creative, safe and responsible ways to serve its clients in a time of operational changes and financial uncertainty for most. The bank launched the campaign on May 11 with a series of actions, some of which ran until May 20, and some that will last even longer.
Courage, commitment and selflessness...all core values of real life superheroes.
"Our branch teammates have remained resilient throughout this pandemic, and did so with courage, commitment and selflessness," said BBVA USA Head of Retail Banking Larry Franco. "Those are all core values of real life superheroes. People are worried about multiple aspects of their life right now, and financial security is one of them. Our branch employees worked tirelessly to serve client needs and did so effectively with a modified way of working."
On March 20, BBVA announced it would close most of its 637 branch lobbies and instead serve customers through its drive-thrus as a proactive safety measure as the nation battled the coronavirus outbreak. Branch employees, some of whom gave their first-hand experience of the modifications, have had to adapt quickly to a new working environment.
With 599 branches across its seven-state footprint still operating during the COVID-19 pandemic, the bank began its superhero campaign by sending its District Retail Executives (DRE) to each branch in their respective district. The DREs went to their branches from May 11 to May 20 with thank-you cards for each employee, personally signed by the BBVA Management Team.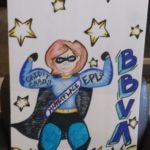 Visits were through either the branch drive-thrus or with social distancing measures being practiced. Some DREs visited their employees with colorfully decorated cars, fun music blaring on speakers, and signs of gratitude, acting as a mini-parade of sorts for their teams.
Other actions of appreciation included an internal "digital thank you wall" microsite for employees across the BBVA footprint to write messages of thanks and encouragement to their colleagues. The site will be live indefinitely. In addition, a commemorative t-shirt was provided for each branch employee to celebrate their inspirational contributions.
Topping off the robust campaign, the bank also produced a heartfelt thank you video for its branch teammates:
"This entire situation happened so fast, and we had to implement a safe business strategy that would allow us to continue our operations, while keeping our employees safe," said Franco. "Our branch employees and their response to that hurdle saved the day for not only the bank, but for our valued clients.
Photo gallery below: 
1

A visit from Larry Franco

2

Beach balls with inspiring words

3

Gift bags and a nifty poem