Real Madrid and Borussia Dortmund at the cutting edge of sports technology
La tecnología está dando pasos gigantes en el cambio del mundo. De la salud a la medicina, en las finanzas y en los propios hábitos de la sociedad. Si, por ejemplo, Big Data ya está siendo utilizado a gran escala en la NFL y la NBA, entonces estamos seguros de verlo tomar partido en el fútbol, y no se limita a las estadísticas. Los avances tecnológicos ya están siendo utilizados  para mejorar el juego, la técnica y la precisión , e incluso para  predecir las lesiones , como lo están haciendo el Real Madrid, el Benfica y el Borussia Dortmund, entre otros.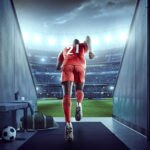 La firma más reciente del Benfica, el invierno pasado, no fue un jugador o un entrenador, sino una máquina diseñada para mejorar las cualidades de los jugadores del primer equipo, como ya lo hizo el  Borussia Dortmund . Se llama  footbonaut , una especie de jaula, de 14 metros cuadrados, que ayuda a los jugadores a mejorar su paso y fortalecer sus reacciones. En definitiva, una forma de  mejorar  las habilidades técnicas de los jugadores.
La máquina lanza una pelota al jugador, requiriéndoles que la controle y la pase tan pronto como sea posible a uno de los 64 paneles que los rodean. Los jugadores obtienen una señal audible y visual de qué área vendrá la pelota y de dónde tendrán que tirar, como si esas áreas fueran un compañero de equipo.
Para "cerrar el círculo", se controla la sesión de entrenamiento y la máquina recopila datos para el seguimiento y el análisis de las mejoras.
Por supuesto, no es comparable con la visión del juego en el campo de fútbol, ni tiene todas las variables presentadas por un juego con 22 jugadores en el campo, pero es una forma de  entrenar para la exactitud y la velocidad de la reacción .
Prevenir lesiones y definir alineaciones
Wearables también desempeñan un papel importante en el fútbol. Pueden ser utilizados para registrar ciertos datos a través de aplicaciones que pueden ser utilizadas para sacar conclusiones del análisis y, por ejemplo,  prevenir lesiones  y saber qué jugadores están listos para dar su mejor rendimiento  en un momento dado. El Real Madrid  y el equipo de rugby de Inglaterra supervisan el entrenamiento de sus jugadores a través de un GPS insertado en sus camisas, un acelerómetro y una banda para medir la frecuencia cardíaca.
Así como la frecuencia cardíaca durante la sesión de entrenamiento, esto permite obtener estadísticas sobre la carga de esfuerzo, la velocidad, el número de aceleraciones y deceleraciones, el equilibrio de cada paso, etc.
Con las conclusiones de los datos extraídos, Carlo Ancelotti y el equipo técnico del equipo de Inglaterra pueden saber si los jugadores están enfermos, cojeando un poco, han dormido mal, etc, ayudándoles a  planificar mejor el entrenamiento  y seleccionar las alineaciones.