"Responsible investment means thinking about the future we want to leave our children when investing"
The 9th Edition of Spain Investors Day united 43 listed companies and major investors in a forum that discussed socially responsible investment for the first time. BBVA participated in the round table discussion on the topic.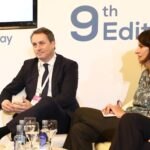 Large companies seek to address the challenges posed by the transition to a more sustainable economic model by giving greater prominence to sustainability and corporate social responsibility (CSR). This is one of the conclusions of the round table discussion "Corporate Social Responsibility in Spanish listed companies" in which BBVA's Global Head of Responsible Business Antoni Ballabriga participated.
"The transition to a low carbon, more circular economy is a technological challenge on the same
level as digital transformation, but much more is at risk," explained Ballabriga. "More and more, institutional investors are asking companies for a longer term vision, and promoting the integration of environmental, social and good governance criteria in their investment strategies."
Quarterly Report 1Q23
In 2018, the bank took an important step in this direction with the launch of Pledge 2025, BBVA's climate change and sustainable development strategy which seeks to help attain the UN Sustainable Development Goals (SDGs) and the Paris Agreement. "A strategy that was welcomed by investors and shareholders as demonstrated by the successful issuing of the first green bond last May." For Ballabriga, "responsible investment means thinking about the future we want to leave our children when investing, so it will become more and more important."
Antoni Ballabriga explained the path BBVA is following to transition to a responsible banking model and how sustainability is increasingly present in our business. "Our long-term sustainability strategy includes a commitment to mobilize €100 billion to help our clients meet the Sustainable Development Goals (SDGs), address environmental issues and improve their social impact."
Enormous challenges, enormous progress
However, we cannot go on this journey alone. "We are working with 27 other banks and the United Nations to set the standards for responsible banking." These standards are reflected in the Principles for Responsible Banking, the first global framework that defines the roles and responsibilities of the financial sector for a sustainable future.
Also participating in this forum were the Minister of Ecological Transition, Teresa Ribera, who gave the opening presentation, Elena Valderrábano, the Global Director of Corporate Ethics and Sustainability at Telefónica; Carlos Ruiz, Director of Sustainability and the Environment at Enagás; and Francisco Román, President of the Seres Foundation, who moderated the round table.