So which iconic London venue - scene of a 70's David Bowie party - is teaming up with The Roca brothers this summer?
This August, the Roca brothers, Spanish culinary heroes and owners of Girona's legendary El Celler de Can Roca restaurant, will be coming to London for an exclusive pop-up at the iconic Hotel Café Royal as part of the BBVA World Tour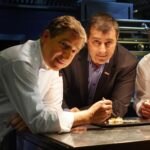 The Roca brothers and Hotel Café Royal will be providing just four nights of gastronomic excellence for selected guests from August 2 -5.  As well as London, BBVA and the Roca brothers are taking El Celler de Can Roca worldwide, with the tour making stops in Hong Kong, Phoenix, San Francisco, and Santiago de Chile
The BBVA World Tour - now in its' third year - arose from the values the bank shares with the Roca brothers: responsibility, innovation, commitment, a global outlook, leadership and the desire to excel, values also realised at Hotel Café Royal.  Speaking of the dinners at Hotel Café Royal, Joan Roca, the eldest brother and Head Chef at El Celler, commented: "Wherever we go on the BBVA World Tour, we look to work with venues that are emblematic of their cities - and Hotel Café Royal is a London landmark."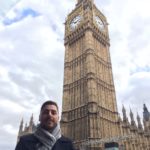 Jordi Roca in London
Guests of the Rocas, Hotel Café Royal and BBVA will enjoy the El Celler experience in the hotel's famous Domino restaurant.  The hotel has seen its fair share of celebrity guests, including David Bowie, who held his 'Last Supper' party at the hotel after retiring alter-ego Ziggy Stardust, inviting famous guests such as Mick Jagger and Lou Reed.
A spokesperson for the hotel said: "We are delighted to be the London host for this exclusive dinner with the Roca brothers and BBVA and are thrilled to be welcoming them to the Capital this summer.  The Roca brothers are renowned for their creativity and we look forward to seeing their take on the UK's regional dishes in the beautiful surroundings of The Domino restaurant."  Wherever they land, 'Los Hermanos' look to work with local ingredients and put a twist on national dishes. The brothers wouldn't comment on whether guests might get El Celler versions of fish and chips or steak and kidney pie!
Philip Paddack, Head of BBVA's London operations, said: 'London is an essential location for BBVA , and as we approach our centenary in the UK, it makes perfect sense through our 'BBVA World Tour'  to bring the Café Royal - a renowned & historic London institution - and the Roca brothers - a global name in gastronomy-  together for this unique occasion .
Want to gain access to a night of unforgettable gastronomic wonders for two? Financial Times has the answer here.