The World's 50 Best Restaurants gala held last night in New York held yet another surprise for the most famous family in the global culinary scene. Joan Roca –the restaurant's 'boss', just as his two brothers acknowledged – received the Chef's Choice Award, based on the votes by the other chefs from The World's 50 Best Restaurants list.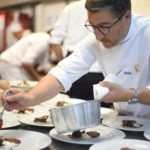 Joan Roca received the award brimming with enthusiasm, as it implies being unofficially considered as the world's best chef: "Being voted by my colleagues is what makes this award even more special. I'm very proud and very also happy for my brothers and for all our team."
El Celler de Can Roca handed the crown at the top of the World's 50 Best Restaurants list to Osteria Francescana from Modena, but the international chef community still considers the Roca brothers as its highest representatives. The Chef's Choice Award distinguishes the "chef among chefs" for a whole year, some sort of primus inter pares. And in the case of Joan Roca, who in two months will be celebrating the 30th anniversary of the opening of his restaurant, represents a tribute to his career, and, indeed, a homage to a way of living.