Social entrepreneurs of BBVA Momentum get coached on the art of the pitch
If the No. 1 fear in the U.S. is public speaking -- and it actually is, according to a number of surveys, even above the fear of death itself -- then the seminar for BBVA Momentum participants this fall at the University of Texas at Austin was a security blanket.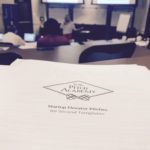 The course was led by Melissa Murphy, a lecturer at UT-Austin's McCombs School of Business who's also founder of The Pitch Academy, which helps entrepreneurs fine-tune their ideas before they pitch them to investors. For 90 minutes, Murphy led the social entrepreneurs through some of the latest research, including her own, on the art -- and science -- of effective public speaking.
"If you can do communication, you can beat the competition," she told the participants, who are undergoing seven months of training through BBVA Momentum so that they can scale up their organizations and help even more people through their social enterprises.
Murphy offered tips on communicating the entrepreneurs' ideas themselves -- how to make them more conversational, why you should never memorize a presentation -- but also spent a lot of time conveying how critical it is to understand the power of nonverbal communication skills. Nonverbal communication is actually more important, she argued. Among her practical tips:
Make eye contact. Murphy said to avoid relying on notecards or referring to your iPad or other portable device while giving a presentation. "That says to me that either you're not prepared or you're nervous," she said. Instead, presenters should spend between 60-70 percent of their time making eye contact with the decision-makers in all four corners of the room. This establishes credibility. But don't make eye contact with any one person for too long. "Anything longer than 3 seconds gets awkward," she said.
Gestures aren't empty. You want to match your gestures to the size of the room, Murphy said. If you have a grand ballroom, you need grand gestures. You also should incorporate a variety of gestures, and not rely on just one. This is also another reason not to use note cards or put your hands in your pockets: If you do that, that prevents you from making any gestures and connecting with the audience. The gestures should convey a sense of openness and confidence.  
Don't be a statue. The biggest mistake Murphy said she sees in terms of nonverbal delivery is when a presenter stands in one place and doesn't move. She calls this the "Walking Dead" effect, with the presenter standing there lifeless with no personality. "Make use of the space," she said. "Command the room. Be comfortable walking up, asking questions, handing people prototypes."
Participants vie for $80,000 in prize money
The participants in BBVA Momentum will be using what they learned during Murphy's lecture as they pitch a panel of judges Friday afternoon made up of entrepreneurs, educators and BBVA Compass executives.  In the end, a total of $80,000 in prize money will be awarded to three of the social entrepreneurs to help them scale up so they can improve the lives of even more people.
BBVA Momentum has been operating since 2011 in several countries throughout the global footprint for BBVA, the Madrid-based bank, but this marks its first foray into the U.S. BBVA Compass, along with judges from McCombs' Texas Executive Education program,  selected more than a dozen social entrepreneurs in Texas to join the program. These are social entrepreneurs who have channeled their passions into solving an array of society's issues, including how to seed more capital in underserved communities and providing housing options for HIV-positive individuals.
As part of their seven months of training, the entrepreneurs are given in-person professional development conducted by Texas Executive Education, and the October gathering marked their second session at UT-Austin.
BBVA Momentum already has driven the expansion of 114 companies with high social impact in Spain, Mexico and Peru. Jointly, they employ 3,200 people and their activities have benefited more than a million people. During the U.S. program, the entrepreneurs got the chance to learn from previous BBVA Momentum participants and investors.