How do specialized analysts and investors value the responsible banking model?
Responsible banking models are drawing more and more interest from specialized analysts and institutional investors.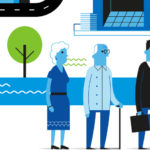 In recent years, an industry focusing on the analysis of corporate social, environmental and good governance policies has started to consolidate, including key players such as Robeco SAM with the Dow Jones Sustainability Index, Vigeo-Eiris, Sustainalytics or CDP. For all of them, BBVA is already one of the leading companies.
Possibility, the most relevant index for many institutional investors that are sensitive to these matters is the MSCI (Morgan Stanley Capital International) index. In this case, BBVA is the only institution within our peer group that has earned the AAA rating. BBVA's best valued areas are its efforts to ensure broad access to financial products and services, corporate governance and the development of human capital.
On the other hand, a growing number of institutional investors are integrating - to a higher or lesser extent - social, environmental and good governance criteria in their investment policies. A good proof of this is the number of companies that have and are signing the Principles for Responsible Investment promoted by the United Nations. Today, the list of signees includes more than 1,400 companies, including asset owners, investment managers and service providers, which manage a combined €59 trillion.
BBVA's multidisciplinary team stays in permanent dialogue with both analysts and investors, with the aim of providing a better response to all of them, always under the principles of transparency and integrity. In the regular meetings it holds with them, some of the things most positively valued is the integration of all these questions in the company's business model, the robust governance and the focus on all those topics that are more material for BBVA.
A case that clearly illustrates our strength in responsible banking matters is that BBVA is the only financial institution in our peer group that is present in the Triodos Investment Management investing universe. This institution is characterized for applying the strictest ethical investment criteria. Besides our general approach with the responsible banking model, our policies regarding sensitive topics such as financing the arms industry, foreclosures and evictions, and project funding also play a key role.
Customers, investors and society in general are demanding increasingly higher levels of transparence. Also, regulations are starting to catch up with these new requirements, as evidenced by the EU Directive on non-financial information that will enter into force in 2017.
BBVA has always been at the forefront, and this year we will take yet another step forward by moving ahead of these new requirements with the new report 'BBVA in 2015', which covering both financial and non-financial information, with the aim of providing a true and comprehensive image of the institution.
*Antoni Ballabriga is Global Head of Responsible Business at BBVA