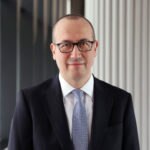 Hello everyone, I am here today to talk to you about the evolution of our business in the third quarter of this year. As we face a second wave of this pandemic, our priorities remain the same; first: the health and well-being of our employees, clients and the society in general and second: the continuity of our service.
As for results in the third quarter, we have reported a profit of €1,141 million euros, a significant increase of 79.5% versus the second quarter, and a 4.1% growth in constant euros versus the same quarter of last year, a very strong figure at a much more normalized level in line with previous years.
Let me highlight the key developments of the third quarter underlying this positive trend:
First, I would like to emphasize that in this challenging environment, we continued to deliver a robust operating income, which increased +13.5%, versus the same quarter of last year.
Second, a very strong cost control and efficiency, with an outstanding efficiency ratio of 45.6% a figure that is much better than the European peer group.
Third, the significant improvement in our year to date cost of risk to 169bps.
Fourth, the strong capital generation, with the fully loaded CET1 capital ratio increasing by +30 bps vs last quarter, already surpassing our target ahead of plan.
And finally, our leading digital capabilities have proven essential and differential in this context. The number of active mobile customers have increased by an additional 4 million this year. [NEW MOBILE CUSTOMERS 4 millions since 4Q19]
Let me conclude by sharing my confidence that we will emerge from this period stronger, as BBVA, as individuals and as a society. Stay positive, stand strong and be safe.