Sustainability takes center stage at the BBVA Momentum 2019 closing event
Twenty experts discussed the future of social entrepreneurship at the closing event of BBVA Momentum's most international year yet. The event in Madrid brought together entrepreneurs from Mexico, Colombia, the United States, and Turkey. BBVA Momentum 2019 closed its most recent edition with an event where participating social entrepreneurs showcased their projects and sustainability played a central role.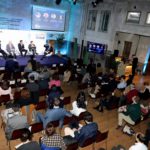 BBVA Momentum, the BBVA program that supports social entrepreneurship, held its closing event today at Impact Hub Madrid. The event concluded the 2019 program, which accelerated growth for 169 social businesses coming from Colombia, the United States, Mexico, and Turkey. International players in the sector attended the day-long event and participated in discussions on topics such as networks and the "associative community," measuring impact, financing, and training.
The three initiatives that had shown the most promise in the preliminary rounds in each country presented their projects. There is significant cultural and social diversity in the geographic areas where the program is active, and each of the program's local rounds faced their own challenges. All the participants were able to summarize their projects, effectively and compellingly while transmitting their passion and desire to continue making progress, traits that have always characterized BBVA Momentum entrepreneurs.
Sustainability took center stage during the day-long event during which Lidia del Pozo, Director for Community Investment Programs at BBVA, described the program's accomplishments. "It is clear to all of us that sustainability has become a priority. Over and above corporate responsibility programs, more and more companies are embracing sustainability, not only for the final output, but across its value chain. Some businesses are already measuring the positive and negative impacts resulting from their business activity. Today it is commonplace to hear that without sustainability, there is no business."
"We want to create discussion about current social and environmental challenges and how entrepreneurs are responding to these challenges with innovative, successful, and economically viable ventures," del Pozo explained.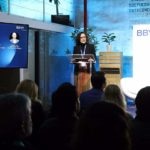 Lidia del Pozo, Responsible Business - Directora, BBVA Community Investment Programs during the event
Agenda 2030 has brought to the fore the fundamental role that businesses play in building a socially and environmentally sustainable world. Furthermore, as several participants explained, it does not take a multinational to provide a business solution that addresses social and environmental challenges; social entrepreneurs have been at it for years.
Talking to this topic, Victor Viñuales, Executive Director of ECODES; and Manuel Lencero, CEO of UnLtd Spain, explained what it is that entrepreneurs are contributing to sustainability that large companies are not.
Concha Blanco, Head of Sustainable Solutions at the BBVA Microfinance Foundation, stressed that BBVAMF has spent 12 years working with micro-entrepreneurs in Latin America, where they have provided microloans to more than five million people totaling more than $14.2 billion (€11.7 billion). Blanco said "these micro-entrepreneurs are an example of determination, the ability to overcome, and the will to transform the future. They are equipped to contribute not only to their own progress, but also to that of the world that surrounds them."
Interconnected networks
In this session, moderated by Bridge for Billions CEO and co-founder Pablo Santaeufemia, the discussion centered on the numerous support programs for entrepreneurs. Antonio González, CEO of Impact Hub Madrid; José Luis Ruiz de Munain, CEO of Spain NAB; and Andrés Pina, Head of CRS at Mutualidad de la Abogacía, delivered three different perspectives on community. Andrés Pina acknowledged that there has been "a certain bubble in the world of entrepreneurship" and he explained that "focusing on the narrative is key during training because you have to know how to tell the story and sell the idea behind your project." Ruiz de Munain called for the "decentralization of entrepreneurship" because not all entrepreneurs are in major urban centers like Madrid or Barcelona. Everyone agreed that it entails working in an ecosystem "as opposed to the so-called 'egosystem,' which is more focused on oneself."
Measuring to make an impact
Participants in this session agreed with the importance of measuring the social and economic impacts produced from their business activity. This rings even more true at a time when metrics have become almost an obsession for entrepreneurs. There is still progress to be made, even at large companies, as was pointed out by Ruben Carricondo, Head of Agenda 2030 at the Spanish Network of the UN Global Compact. He explained that, "only 20 percent of IBEX 35 companies commit to measuring the SDGs."
Training the entrepreneurs of the 21st Century
What training for entrepreneurs should focus on and what the most innovative and important topics are (metrics, sustainability, technology, data, etc.) were the salient points addressed in a round table that reviewed the educational needs of entrepreneurs 15 years ago compared to what is needed today. The impact technology has had was also discussed.
Social investors: what they offer and how they decide
There is a wide range of social investors, and entrepreneurs don't always know what investors can provide them or what options are available. In this roundtable, moderated by Gianluca Gaggiotti, researcher at the European Venture Philanthropy Association (EVPA), the speakers provided participating entrepreneurs practical advice about some of the available options.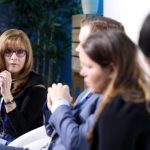 Irma Acosta, Head of BBVA Momentum México.
Antoni Ballabriga, BBVA's Global Head of Responsible Business, was on hand to bring the event to a close. He congratulated the social entrepreneurs, "not only from this year, but from all nine years BBVA Momentum has been active" and encouraged them to continue the hard work with their sustainability-driven initiatives.
"At BBVA, we have defined our purpose: to bring the age of opportunity to everyone. What better way to live up to our purpose than by supporting these entrepreneurs who always go the extra mile, entrepreneurs who change lives and make a positive impact on their surroundings," Ballabriga explained.
He also talked about two new cornerstones in BBVA's strategic approach with respect to sustainability and promoting financial health: climate action and inclusive growth, respectively.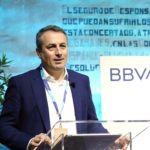 Antoni Ballabriga, Global Head of Responsible Business BBVA,
Participants also had the unique opportunity to deepen their knowledge and expand their network of contacts with the premiere social entrepreneurship ecosystem.
From its launch in 2011 to the present, BBVA Momentum has contributed to accelerating the growth of 684 social enterprises across six countries: Colombia, Spain, the United States, Mexico, Peru, and Turkey. Throughout its history, the program has benefited from the active contribution of 477 executives, mostly from BBVA. Of those, 316 have participated as mentors, supporting entrepreneurs as they developed growth plans, and 161 were involved as specialists, responding to individual questions as they came up.
BBVA Momentum 2020 will increase these numbers with new entrepreneurial businesses, mentors, and specialists who together will form a part of a dynamic and international ecosystem in the support of social entrepreneurship.
1

BBVA Momentum entrepreneurs from Colombia

2

BBVA Momentum entrepreneurs from Mexico

3

BBVA Momentum entrepreneurs from Turkey

4

BBVA Momentum entrepreneur from USA

5

BBVA Momentum 2019 entrepreneurs