Almost three million Syrians will receive UNHCR help to survive the winter
The winter is another harsh test for the survival of the people of Syria. Once again, UNHCR has prepared in advance for its campaign for the coldest months of the year to support people forced to flee their homes by conflicts ravaging their countries.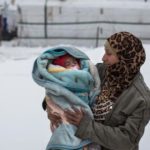 More than 11 million people have been forcibly displaced within and outside Syria – half the country's 23 million population prior to the war: they are now facing temperatures of 0 degrees to 5 degrees. UNHCR reports that the situation is untenable. Against this backdrop of mass displacement, millions of children are falling victim to illnesses aggravated by lack of resources and the traumas of war.
Those that have managed to reach neighboring countries (Lebanon, Jordan, Iraq, Egypt and Turkey) are being forced to live in atrocious conditions, with whole families crammed into overflowing refugee camps or dwellings that do not meet the minimum standards to be considered inhabitable. And the countries receiving them have been overwhelmed by the mass arrivals since the conflict began. There are 629,000 refugees in Jordan alone, whilst there are more than one million in Lebanon.
Winter campaign
Faced with this situation, UNHCR has identified almost three million especially vulnerable people (1.73 million refugees and 1.25 million internally displaced) that it aims to help to ensure their survival over the winter months.
This year, the help offered by UNHCR to Syrian refugees and displaced persons will include seasonal economic aid so that the most vulnerable families can cover their basic needs: thermal blankets, stoves and heaters, winter clothing and footwear, fuel and plastic sheeting and thermal insulation.
Its Whole of Syria project aims to help 1.2 million Syrians (16% of all internally displaced people), giving them economic assistance to buy winter clothing and a survival kit for the cold, including three thermal blankets and a plastic sheet. In Iraq, it is supporting 26,400 vulnerable families, 53% of the Syrian population in the country. 60% of this assistance will go to refugee camps with provision of resources to 10,400 families. The remainder will be used to help 16,000 families living outside the camps, with no resources to survive the winter.
UNHCR is helping 229,400 refugees in Jordan and 48,000 in Egypt, plus a further 90,000 vulnerable families in Lebanon and 272,560 in Turkey.