Grupo DEME, a marine engineering company with a global presence, signed a €20 million sustainable financing agreement with BBVA. The loan is part of an extensive financing package that will enable the Belgian group to finance further investments in its dredging and environmental activities. Based in Zwijndrecht (Belgium) with over 5,200 employees worldwide, the company is reinforcing its commitment to sustainability and the environment.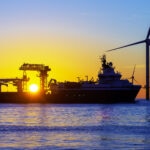 Completed on May 20th, the transaction is linked to the evolution of two sustainability indicators: low-carbon fuel consumption and work safety. These indicators can trigger a reduction in the interest rate paid by the company.
Pablo Morillas, Senior Relationship Manager at BBVA Belgium, emphasized that: "BBVA is supporting and accompanying Deme in its transition to a greener future and is proud to have been chosen by the group for this new long-term bank financing that incorporates sustainability requirements. This transaction clearly illustrates BBVA's expertise in supporting its clients which, like Deme, are increasingly looking for financing alternatives consistent with their commitment to provide an added value to society and the environment."
Geert Wouters, Head of Structured Finance and Treasury at DEME, added: "The DEME Group is continuing on the path we began in February this year, when we introduced important sustainability KPIs and targets in all of our long-term financing agreements. These KPIs and targets are replicated in the new term loan facility agreements we signed on May 20th."
The financing package of which this loan is a part will enable the DEME Group to renew its fleet of vessels linked to dredging projects and offshore wind energy projects (energy obtained from wind turbines located at sea).
BBVA, a benchmark for sustainable financing
BBVA has been a pioneer and fundamental driver of the sustainable lending market, making it one of the most active institutions globally and, especially, in Spain.
BBVA mobilized €10.81 billion in sustainable financing between January and March 2022 - 26 percent more than the previous quarter, setting a new quarterly record.
BBVA has channeled a total of €96.7 billion in sustainable financing from 2018 to March 2022. This represents nearly half of its goal of reaching €200 billion by 2025, announced in July 2021, doubling the initial target.
BBVA focuses its efforts on supporting clients with financing, advice and innovative solutions in the joint effort to decarbonize the economy. In this process, specialized sectoral knowledge and the development of tools that enable a sustainable transition are key.