BBVA backs MAPFRE's new sustainable product launch
MAPFRE has strengthened its life-savings insurance product portfolio with the launch of Unit Linked Valor Activo III. The product is linked to the performance of the Eurostoxx index and to a BBVA social bond. The bank will devote the proceeds to fund social projects. With this new operation, BBVA is supporting the Spanish insurance company's efforts in broadening its sustainable commercial offering.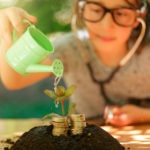 The product, which matures in April 2022, features an early redemption option that may be exercised on May 2021 with a 2.56 percent yield if the index performs favorably with respect to its initial value. If the performance is not positive, Valor Activo III will continue until the final maturity date, upon which, if the performance of the index is positive, 100 percent of the principal plus a 5.12 percent yield will be repaid.
If the value of the index upon maturity is between 90 and 100 percent with respect to the initial reference value, the insurance will repay 100 percent of the principal, thus guaranteeing the capital in its integrity. Only if, upon maturity, the index is below 90 percent with respect to the initial value, the repayment will be 90 percent, in a way such that the potential loss will in no case exceed 10 percent of the invested capital.
With this new product, BBVA supports MAPFRE in its commitment to integrate ESG criteria in the selection of its investments. The life-savings insurance helps build a more sustainable world and presents an interesting alternative for savers willing to assume a certain risk level.
BBVA, a leader in sustainable finance
As a sign of its firm commitment to the fight against climate change, in 2018 BBVA approved its Pledge 2025, a plan that envisages the mobilization of €100 billion through 2025 in green financing, sustainable infrastructure, social entrepreneurship and financial inclusion. The bank has the capacity, knowledge and experience to provide its clients superior advisory services for sustainable financial solutions and is playing a key role in developing this market