BBVA Bancomer & Palace Resorts partner with world-renowned Chef Joan Roca
Palace Resorts - the company that sets the standard in five-star, all-inclusive resort accommodations –proudly announces El Celler de Can Roca Experience, a unique gastronomic experience in partnership with three-Michelin-star Chef, Joan Roca and BBVA Bancomer, to Moon Palace Cancun, on May 8th & 9th, 2018. The exclusive dinners will benefit the rebuilding of schools in Mexico City that were destroyed during the country's recent natural disasters.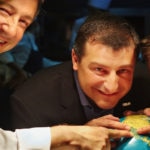 As part of the brand's commitment to elevating its epicurean experiences, Moon Palace Cancun will welcome one of the world's best culinary masters, Joan Roca, owner of Spain's celebrated El Celler de Can Roca, in Girona, Spain. The restaurant, which has earned three Michelin stars, was named the best restaurant in the world by Restaurant magazine, in 2013 and again in 2015. In addition, it has consistently ranked among the top five on Restaurant Magazine's coveted, World's 50 Best Restaurants list since 2009. The world-renowned restaurant has also earned three Repsol "Suns," a prestigious distinction that recognizes restaurants and chefs in Spain that have demonstrated culinary excellence and are on the vanguard of Spanish and Portuguese gastronomy. In addition, Roca, was recently awarded with "The Best Chef Awards" in 2017. The award, which is voted for by the other chefs from The World's 50 Best Restaurants list, recognizes an individual how has gained the respect and admiration of his peers for his inspirational work and leadership in the industry.
In conjunction with the Palace Foundation and BBVA Bancomer, acclaimed Catalan chef, Joan Roca will bring two nights of back-to-back gastronomic magic to guests, while giving back to local communities. 'Alta Cocina con Valores', an initiative to bring high-end culinary experiences paired with human values, will bring Roca to the Mexican Caribbean to offer an unprecedented gastronomic experience.
As the leader in the luxury all-inclusive space, Palace Resorts has demonstrated its dedication to elevating the dining experience by aligning with top brands. Now, in partnering up with Michelin Star Chef, Joan Roca and BBVA Bancomer, the brand reinforces its commitment to elevating its already high gastronomic offerings and sets itself apart from the competition by bringing elite culinary experiences from around the world, right to its guests.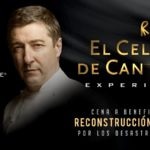 El Celler de Can Roca Experience will take place in Cancun (Mexico) on May 8th and 9th
"Palace Resorts is consistently searching for strategic partnerships that take our brand to the next level," said Jabib Chapur, Vice President of Food & Beverage for Palace Resorts.  "In this case, partnering with Joan Roca and BBVA Bancomer made perfect sense, given that both brands share similar philosophies, emphasizing innovation, teamwork, the desire for constant improvement and, of course, the desire to excel. Bringing the El Celler de Can Roca Experience to Moon Palace Cancun, is a testament to our commitment to bring guests unique culinary experiences, in this case, the greatest restaurant in the world, while at the same time giving back for the greater good to our communities that so desperately need it after tragedy strikes."
Joan Roca is considered one of the best chefs in the world. Together with his brothers, Joan and Josep Roca opened El Celler de Can Roca in continuing a family tradition in the restaurant trade that has spanned generations. Younger brother Jordi later joined the venture, and the three are now world-renowned culinary superstars, revered for their innovative approach to food combinations, preparations, and presentations. El Celler de Can Roca is considered the flagship of the culinary universe, bringing constant dialogue blending tradition and science.
"I am so excited to bring the El Celler de Can Roca Experience to Moon Palace Cancun. The ability to help rebuild after last year's earthquakes in Mexico City is very special to me and an initiative that I hold dear to my heart," said Joan Roca, Executive Chef of El Celler de Can Roca.  "My brother Josep, was in the capital that day, and he witnessed the strength of the earthquake, and its catastrophic remnants, first-hand. I am thrilled to be a part of this initiative and I am confident that the partnership with Palace Resorts and the BBVA Bancomer Foundation will be very successful."
Mauricio Pallares Coello, Head of Corporate Marketing at BBVA Bancomer detailed that the financial group, through its foundation is committed to improving access to education for children in middle and high school, as well as at the university level. "With this partnership, Palace Resorts and El Celler de Can Roca solidify our commitment to rebuild and reestablish the infrastructure in schools, while  allowing students to return to classes as soon as possible." Pallares expressed that BBVA Group's vision is to work towards a better future for people and will fulfill it by acting immediately, as soon as the affected community needs it.
El Celler de Can Roca Experience will take place at the newly renovated, "La Trattoria," located on the Jack Nicklaus, golf course at Moon Palace Cancun, on May 8th & 9th, 2018.  The event will kick off with a welcome cocktail at 8:00 p.m. where guests will mingle with star Chef, Joan Roca. Ticket prices are $ 750 USD ($ 14,500 MXN) per person. The dress code is formal attire and will be strictly enforced. For ticket information and bookings, please visit: www.palaceresorts.com or call (998) 193 1993, or email experience@palaceresorts.com