BBVA Compass helps impoverished families and abuse victims in Orlando
BBVA Compass sponsored the Association of Financial Professional's solidarity initiative, AFPAware Community Service Day, to package 10,000 lbs. of food and 2,000 care kits that will be distributed to needy families and abuse victims, respectively.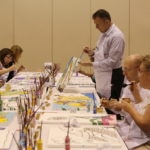 For the seventh year in a row, BBVA Compass was the official sponsor of the AFPAware Community Service Day, a community initiative of the annual conference of the Association for Financial Professionals, designed to provide assistance to conference site local residents.  The progam's three core pillars focus on improving the workplace, community and environment. This year's progam was conducted in Orlando, on October 23rd.
"We take pride in sponsoring AFPAware
In partnership with more than 70 treasurers of large companies, volunteers bagged 10,000 lbs. of sweet potatoes for distribution to local families and prepared 2,000 care kits for sheltered victims of abuse. The AFPAware sponsorship included PaintFest resulting in seven large hand-painted murals being completed by volunteers for distribution to children's hospitals in our footprint, to include a facility in Columbia S.A.
"We take pride in sponsoring AFPAware," said Nanette Crocker, Treasury Management Executive Director at GTB USA. "The corporate principles and values of AFPAware are in-line with those of BBVA Group and BBVA Compass. Sponsoring and participating in AFPAware is a great way to help others and make their lives a little better."