BBVA creates the 'water footprint' loan and launches it worldwide together with Iberdrola
BBVA has created a new sustainable loan that focuses on reducing water footprint, a key priority in many companies' sustainability policies. Iberdrola, one of the world leaders in sustainability, is the first company to formalize this innovative solution in the sustainable financing market, which can be structured as a bilateral or syndicated loan.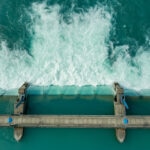 BBVA and Iberdrola have just formalized the world's first syndicated line of credit linked to the water footprint. The operation was signed for an amount of 2.5 billion euros and involved a total of 24 financial institutions led by BBVA, which was the sole sustainable coordinator and agent bank.
The 'water footprint' loan is a sub-type of loan that takes into account specific water indicators. This new loan is of particular interest to companies that make intensive use of water in their production processes, such as those operating in the energy, food and beverage, agricultural, textile and packaging sectors, to name but a few.
Water is essential for life, finite and unevenly distributed. Its use has increased six-fold in the last century, but 2 billion people still lack access to safely managed drinking water and 25% of the world's population lives in countries with extremely high water stress. By 2050, water scarcity in some regions could affect GDP growth by as much as 11.5%, according to estimates by the World Bank. All of these data highlight the urgency and make the water footprint a top priority.
With this new product, customers benefit from their efforts to reduce their water footprint, not only in terms of price, but also in terms of reputation and by standing out from competitors. In addition, the 'water footprint' loan offers a customization of sustainability for these sectors where the water footprint has a real impact.
In the case of Iberdrola, it will take into account two indicators on which the company will report annually. Firstly, water consumption  in the generation of energy, measured as the amount of water drawn within the organization's boundaries and not discharged back into the environment, with a target reduction of 50% by 2030. Secondly, the CDP Water score, which assesses disclosure, awareness and management of water risks, as well as best practices.
BBVA's strategic priorities are innovation and sustainability, and this new 'water footprint' loan is a good example of this. Once again, BBVA and Iberdrola remain at the forefront of innovation in sustainable finance.
For BBVA, with its major presence in emerging countries, biodiversity and natural capital are increasingly important in relationships with clients. The bank's approach is to strongly support clients in their transition to a greener and more inclusive future.
On June 21, BBVA announced that it had joined the Taskforce on Nature-related Financial Disclosures (TNFD). BBVA is the first Spanish bank to join this forum, which now brings together more than 400 financial institutions, organizations and regulators from all over the world. TNFD  seeks to develop a framework for companies around the world to report and act on their evolving impacts, dependencies, risks and opportunities relating to nature.