BBVA drives the coalition for climate finance in emerging markets in an initiative led by UN Special Envoy Michael R. Bloomberg
BBVA will co-chair the Climate Finance Leadership Initiative (CFLI) in Colombia, a new public-private partnership that aims to mobilize capital in support of Colombia's climate goals. The initiative will be replicated in other countries to close the climate finance gap in emerging markets.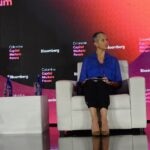 "Emerging economies must join the race to decarbonization. Their role in this challenge is critical. We will not be able to achieve the main targets of the Paris Agreement without these countries. And BBVA wants to lead sustainable finance in emerging markets. Our experience, size and recognition—not only in Latin America, but also in other countries such as Turkey—allows us to accompany these countries in their sustainable transition.  Without a doubt, it is a great opportunity for their growth and development, and a necessary step in this journey toward a more sustainable world for everyone," said Javier Rodríguez Soler, the Global Head of Sustainability at BBVA.
Javier Rodríguez Soler: "BBVA wants to lead sustainable finance in emerging markets"
"This initiative can help Colombia accelerate its transition to clean energy, and adapt to climate change, by knocking down barriers to investment and aligning financing around important projects. It will also help to create a blueprint for other countries in the region to speed up their progress," stated Michael R. Bloomberg, UN Special Envoy and Chair of the Climate Finance Leadership Initiative.
CFLI is a featured initiative of the Glasgow Financial Alliance for Net Zero, a global coalition of financial sector institutions working together to accelerate the world's transition to net-zero greenhouse gas emissions.
According to the UN, the adverse effects of climate change will hurt emerging economies far more than the developed world. Yet these regions have enormous potential to harness renewable energy and nature-based solutions to offset CO2 emissions. According to the International Energy Agency, annual investment in clean energy in emerging and developing economies must rise from $150 billion in 2020 to more than $1 trillion by 2030 to place the world on track to achieve net zero emissions by 2050.
CFLI Colombia will be co-chaired by Mario Pardo Bayona, the CEO of BBVA Colombia. He said, "At BBVA we are convinced of Colombia's potential in the development of sustainable projects and activities. Colombia can and should be a world power in this field for the richness and productivity of its territory.  And now through this alliance, of which we are a part, we hope to contribute to the fulfillment of the country's environmental goals. Likewise, we will be very pleased to share our knowledge as part of a financial group like BBVA with a strong commitment to sustainability in order to move towards a more inclusive, fair and sustainable future."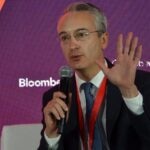 Mario Pardo Bayona, the CEO of BBVA Colombia.
BBVA is committed to sustainable finance in the region. In Colombia alone, the bank has mobilized €287 million*. It also supports inclusive growth in the country through sustainable finance. For instance, the bank has provided a green letter of credit facility to finance the construction of the first phase of the Bogotá metro, a flagship project in implementing sustainable mobility through renewable energy sources.
The bank has mobilized funds to support small, medium and large companies in converting their processes toward more sustainable practices. In addition, BBVA encourages its customers to change their habits by granting loans to build or buy sustainable homes and hybrid vehicles.
This is the first Latin American CFLI Country Pilot following the success of CFLI India, aligned with the goal of replicating this model elsewhere. The CFLI Country Pilots are designed to identify and accelerate financial and policy solutions to move capital into sectors and activities that are critical to achieving a low-carbon, climate-resilient economy.
This initiative will also help the country to fulfill its Nationally Determined Contribution (NDC) under the Paris Agreement, which includes a commitment to reduce greenhouse gas emissions by 51% by 2030 and achieve carbon neutrality by 2050.
The partnership will involve major private sector Colombian and multi-national corporates and financial institutions. The partnership will be supported by a Secretariat led by Bloomberg, the City of London Corporation, and the Global Infrastructure Facility. CFLI Colombia will also be co-chaired by Juan Carlos Mora Uribe, CEO of Bancolombia.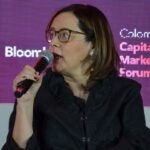 Juana Tellez, the Chief Economist Colombia of BBVA Research.
Colombia has some of the highest renewable energy potential in Latin America and has seen rapid growth in clean energy and other low carbon sectors in the last decade. According to Bloomberg NEF, in 2022 Colombia will kick off a renewable energy boom, which in the next four years will multiply the country's wind and solar capacity by a factor of 13 from 2021 levels (353 MW). From 2011 to 2019, Colombia attracted $1.3 billion in clean energy investments and received a record $800 million of investment in 2021 alone. However, the country will need substantially more investment to deliver its queue of wind farms awaiting financing.
About the Climate Finance Leadership Initiative (CFLI)
The Climate Finance Leadership Initiative (CFLI) convenes leading companies to mobilize and scale private capital for climate solutions. Michael R. Bloomberg formed the CFLI at the request of the United Nations Secretary-General António Guterres. Founding members of the CFLI include Allianz Global Investors, AXA, Bloomberg, Enel, Goldman Sachs, Japan's Government Pension Investment Fund (GPIF), HSBC, and Macquarie.
* At the exchange rate prevailing on December 31, 2021 (COP 4,527.77 to the EUR).