BBVA has been recognized as the world's global leader in sustaining communities at the Global Finance Awards 2021, which recognize global and regional leaders in different categories. The publication has especially valued "the bank's support for entrepreneurs via the Microfinance Foundation." BBVA, the only Spanish bank to receive recognition as a "global leader", has also won five other regional awards in different categories related to sustainability.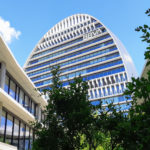 Outstanding Leader in Social bonds and Sustainable Project Finance in Latin America; and Outstanding Leader in Green Bonds, Sustainable Finance and Sustainable Infrastructure Finance in Western Europe are the regional awards won by BBVA in this first edition of Global Finance's 2021 Sustainable Finance Awards. With three awards in Western Europe, BBVA was the bank with the highest number of awards in this region.
These awards recognize "global and regional leadership in Sustainable Finance for initiatives designed to mitigate the negative impacts of climate change and help build a more sustainable future for humanity," according to the publication.
The winners were selected based on their environmental and social achievements, and the magazine particularly valued aspects related to support for social initiatives; sustainable financing globally and in emerging markets; and efforts in the issuance of sustainable (green and social) bonds.
"This award recognizes our efforts to support, accompany and finance, especially in those communities that need it most in many countries where we have a significant presence. In this sense, as part of our sustainability strategy, inclusive growth is critical, and greater education and financial inclusion have a favorable impact on the well-being and sustained economic progress of these communities. BBVA allocated 142 million euros to social initiatives alone in 2020," said Antonio Ballabriga, BBVA's Global Head of Responsible Business.
In February 2021, the English-language publication recognized BBVA as the world's best investment bank in sustainable finance.
In addition, through the BBVA Microfinance Foundation, it promotes the sustainable development of low-income people through financial services, financial education and technical training to boost their small businesses. In its more than ten years of history, it has supported 5 million entrepreneurs through its banks in five Latin American countries, with disbursements of more than US$15.2 billion.
The BBVA Microfinance Foundation (BBVAMF) has been recognized by the OECD as the leading foundation in Latin America in terms of its contribution to development, and the second in the world only after the Bill & Melinda Gates Foundation.
In 2020, BBVA launched its 'COVID-19' Social Response' Plan, equipped with €35.7 million to help society as a whole. More than 3.5 million people have directly benefited from these initiatives, in addition to measures to support customers, such as moratoriums and publicly guaranteed loans.
BBVA is the most sustainable bank in Europe and the second most sustainable in the world, according to DJSI.
Global Finance, with 34 years of experience in international financial market information and readership in more than 191 countries, recognizes leading global and regional banks and other financial service providers in its annual awards.