BBVA kicks off a donation and aid campaign to help with the emergency in Ukraine
BBVA has launched a donation campaign amongst its customers and employees in Spain, aimed at aiding in the humanitarian crisis that Ukraine is suffering. Moreover, BBVA will enable free transfers from individuals to Ukraine from March 7.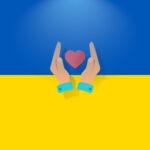 Donations will go to support initiatives launched by UNICEF, UNHCR, Red Cross and Doctors of the World. To collaborate through Bizum, simply access the application, click on 'Contribute to a solidarity cause', enter the code of the chosen NGO and the amount you wish to contribute. These are the codes for Bizum and the account numbers to make donations:
UNICEF Spain

Bizum: 04910
Account number: IBAN ES65 0182 2370 4100 1003 3337

UNHCR

Bizum: 04893
Account number:  IBAN ES18 0182 2325 0102 0800 2783

Red Cross

Bizum 33467
Account number: IBAN ES92 0182 2370 4600 1002 2227

Doctors of the World

Bizum 33509
Account number: IBAN ES54 2100 4466 9902 0002 0000
UNHCR, the UN refugee agency, estimates that so far, more than 874,000 people have been forced to leave Ukraine and tens of thousands are trapped inside the country. According to the UN, 12 million people will be in need of humanitarian aid in the coming months. The lives and well-being of some 7.5 million children are at risk, according to UNICEF data.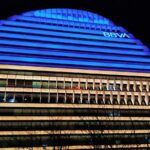 La Vela, BBVA's headquarters, illuminated in the colors of the Ukrainian flag.
NGOs are focusing their efforts on providing basic humanitarian supplies and shelter to the displaced, as well as assistance to those who cannot flee the country.
The main building of Ciudad BBVA in Madrid, La Vela, and the headquarters of the BBVA Foundation have been lit up with the colors of the Ukrainian flag and will remain so for the next few days in solidarity with the country. BBVA will extend this illumination to the rest of its headquarters in the different countries where the bank is present.
BBVA is also considering other support and solidarity initiatives with Ukraine that will be announced soon.