BBVA, the only Spanish financial institution on the Finance Industry Advisory Board for the International Energy Agency
BBVA is the only Spanish financial institution that is a member of the International Energy Agency's (IEA) Finance Industry Advisory Board, which held its first meeting in Paris. This initiative aims to be an institutional channel between the agency, the finance community and energy policy makers in order to promote dialogue on the issues that affect energy investments, in particular those related to the transition toward clean energy.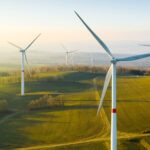 At the last COP27, developed countries already discussed the huge responsibility to promote and facilitate the energy transition in developing countries. Through its participation in this board, BBVA wants to help provide solutions to finance energy investments, with a special focus on emerging and developing economies.
Antoni Ballabriga, Global Head of Responsible Business at BBVA and the bank's representative on the board, underscored that "financial institutions are increasingly using studies from the International Energy Agency to define our goals and sectoral plans in the framework of our commitment to zero emissions. Participating in this advisory board gives us a magnificent opportunity to address the methodological and data challenges facing the financial sector."
"Successful and secure energy transitions depend not just on political decisions and technological innovation, but also on the mobilization of huge amounts of investment capital —especially for clean energy projects in emerging and developing economies," said Faith Birol, the Executive Director of the International Energy Agency, who opened the board meeting. "I'm very pleased at the strong interest from the energy finance community in this new IEA initiative," she added.
For the upcoming COP28, the IEA will conduct an analysis of the transition toward clean energy for the oil and gas industry. This exercise could serve as a guide for the role of producers from these sectors in their journey to climate neutrality, offering metrics and analysis that allow stakeholders to determine whether these producers are making a real effort to change their business models at the speed and on the scale necessary.
40 representatives from leading actors in the energy finance world participated in the first meeting of the new board, including banks, asset managers and international financial institutions.
The Finance Industry Advisory Board joins other informal consultative boards that the IEA has established for dialogue with relevant interested parties, such as the Energy Business Council or the Clean Energy Labor Council.
BBVA has set intermediate decarbonization targets for 2030 in line with the IEA's net zero scenario.