The bank organized a variety of different volunteer programs in December in every country where it has a presence. Over 1,100 volunteers participated in 36 charitable activities, which primarily entailed collecting food and toys and supporting underprivileged groups.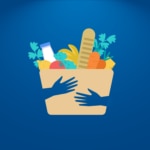 BBVA wanted to celebrate the Christmas holidays by offering its employees different  volunteering activities for those most in need. In the month of December, more than 1,100 bank employees around the world participated in the charitable activities that were organized. The bank wanted the bulk of these activities to benefit particularly vulnerable groups. Over half of the global activities were geared toward children, older people, and those with illnesses.
In Spain, the volunteers helped to collect food donated by employees at corporate buildings. They collected and classified approximately 3,000 kilos of food, which went directly to the Spanish Federation of Food Banks (FESBAL).
Bank employees in Spain also collaborated with two other foundations, Saint Vicent de Paul, collecting 266 boxes of clothing, toys and personal care products, and the Order of Malta Hospital Foundation, with 70 boxes of products of this kind. These charitable activities were also complemented by direct donations via Bizum, raising over €11,200.
Other activities were also carried out, such as creating Christmas decorations with Grandes Amigos for nursing homes, collecting letters and drawings for hospital patients with Nadie Solo, and giving Madre Coraje 27 boxes of used books.
These actions were replicated in all countries where BBVA has a presence. BBVA Mexico employees and their families donated more than 3,000 toys at an event held at Torre BBVA. Four activities to support over 300 beneficiaries also took place.
In Peru, bank volunteers collected more than 600 toys and 15 boxes of clothing and diapers for the Asociación de Hogares Nuevo Futuro. They also invited 400 children to the headquarters in Lima to enjoy a day filled with activities for children and chocolate. In Uruguay, volunteers delivered over 400 gifts donated by bank employees to the Ronald McDonald House at the Pereira Rossell Hospital, which provides housing to mothers and fathers accompanying their children at hospitals.
In Argentina, more than 500 bank collaborators put together 148 Christmas boxes that were given to the Food Bank, Fundación Sí and the parish Nuestra Señora del Carmen de Quilmes Oeste. Then, each organization distributed the boxes to their soup kitchens and families. In addition, 46 volunteers participated in the workshop 'Toy Factory' in conjunction with Fundación Sí, to assemble, paint and decorate toys for the boys and girls who attend the activities of the Luz de Esperanza foundation.
Similarly, volunteers from BBVA Colombia, Venezuela and Turkey carried out charitable activities with the same focus, ensuring that the Group's entire workforce was involved in such an important time of year.