BBVA has been recognized for its Outstanding Financial Leadership in Sustaining Communities at a global level, at the Global Finance magazine's Sustainable Finance Awards 2023. The bank also won three other regional awards in different sustainability-related categories.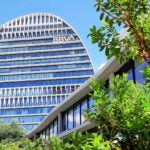 In this third edition of the Global Finance Sustainable Finance Awards 2023, BBVA also received the Outstanding Financial Leadership in Sustaining Communities in Latin America and Leadership in ESG-related Loans in Latin America, as well as the outstanding bank in green bonds in Western Europe.
Global Finance noted BBVA's exceptional financial leadership in supporting communitie and the €131 million devoted to social investment in 2022 that benefited communities both in Spain and in Turkey, Mexico and South America where the bank is present. The magazine praised Garanti BBVA's Women Entrepreneur program in Türkiye as an example, which supported 2,710 female microentrepreneurs with financial and non-financial business solutions in 2022.
In addition, through the BBVA Microfinance Foundation (FMBBVA), the bank promotes the sustainable development of those on low incomes through financial services, financial education and technical training to boost their small businesses. In its more than 15 years of history, it has served more than six million entrepreneurs in five Latin American countries. Furthermore, for the fourth consecutive year, FMBBVA has been named the leading foundation in Latin America in terms of its contribution to development and the first in the world in terms of its contribution to gender equality, according to the Organization for Economic Co-operation and Development (OECD).
Joseph Giarraputo, Founder and Editorial Director of Global Finance, noted that "the awards recognize financial institutions that have initiated, maintained and strengthened their sustainable finance offerings in 2022." The publication also values "global and regional leadership in sustainable financing for initiatives aimed at mitigating the negative impacts of climate change and helping to build a more sustainable future for humanity."
Global Finance, with 36 years of experience in international financial market information and readership in more than 191 countries, annually recognizes leading global and regional banks and other financial service providers in its awards. In this edition it has recognized entities in 57 countries. These awards reflect a broad recognition of excellence among the financial community and in the field of sustainability in particular. In the 2021 and 2022 editions, BBVA has already won awards for sustainable financing.
Last year BBVA was recognized as the most sustainable bank in Europe for the third consecutive year according to the Dow Jones Sustainability Index, the global benchmark index for sustainability, which gave the bank the best score in the category of banks on a regional level (86 out of 100) and the second highest on a global level.