BBVA's donation drive in Spain among its employees, customers and non-customers has already collected two million euros, in addition to the bank's own contribution of one million euros. Nearly 50,000 donors have joined this campaign in aid of Ukraine.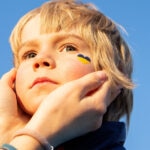 The donation drive, which is still active, is earmarked for initiatives launched by UNICEF, UNHCR, the Red Cross, and Doctors of the World. These non-profits provide essential humanitarian supplies and shelter to displaced persons and assistance to people who cannot flee the country. Donations are still required, therefore.
UNHCR, the United Nations refugee agency, estimates that so far  more than 4.9 million people  have been forced to leave Ukraine, while inside the country there are 7.1 million displaced people. In the coming months, some 12 million people could need humanitarian aid. In the words of UNHCR High Commissioner Filippo Grandi, "Behind the cold statistics, there are millions of stories of separation, anguish and loss." In addition, the lives and well-being of some 7.5 million children are at risk, according to UNICEF data.
To donate using Bizum, just access the app, click on 'Aportar a una causa solidaria', then enter the code for your chosen non-profit and the amount you wish to donate. On March 7, BBVA enabled free transfers from private customers to Ukraine.
These are the codes for Bizum and the account numbers for donations:
UNICEF Spain

Bizum: 04910
Account number: IBAN ES65 0182 2370 4100 1003 3337

UNHCR

Bizum: 04893
Account number:  IBAN ES18 0182 2325 0102 0800 2783

Red Cross

Bizum 33467
Account number: IBAN ES92 0182 2370 4600 1002 2227

Bizum 33509
Account number: IBAN ES54 2100 4466 9902 0002 0000Doctors of the World
In addition, BBVA donated one million euros, distributed in equal shares to UNICEF and UNHCR. These two non-profits are able to deliver aid on the ground and have recognized expertise in the challenges posed by this emergency: mass migration, acquisition of refugee status, and women and children who are unprotected or trapped in the conflict zone.
Moreover, BBVA has offered the Spanish Ministry of Inclusion, Social Security and Migration 200 homes for refugees. With room to accommodate up to 800 people, the offered homes are spread throughout Spain, with most being located in the regions of Catalonia, Valencia and Andalusia. BBVA is considering further support measures for Ukrainian refugees in the short, medium and long term.
BBVA will facilitate refugees' financial inclusion with a basic payments account, which only requires presentation of an application for temporary protection of displaced persons. Without further paperwork, refugees will have free access to an account and a card supporting basic banking services.
BBVA has signed a pledge espoused by more than 50 companies from around the world in support of refugees. The initiative is part of the Tent Partnership for Refugees, a global non-profit of which BBVA is a member.
Finally, BBVA has published a guide for Spanish families wishing to host Ukrainian refugees. The guide contains detailed information and advice on how to prepare for, help and support refugees on their arrival in Spain and in their new homes. The guide is available at BBVA.es.
BBVA's buildings in Madrid (the headquarters in La Vela and the BBVA Foundation) and BBVA's towers in Mexico City and Buenos Aires are lit up every night in the colors of the Ukrainian flag as a gesture of solidarity.