Thanks to blockchain, ten-thousand Syrian refugees in Jordan were able to receive humanitarian help faster and more efficiently. The technology's humanitarian applications will yield advantages that far exceed those of current protocols.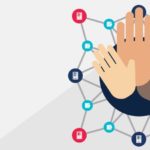 The focus on bitcoin's development and the cryptocurrency's potential as purely speculative currency, tends to outshine its underlying technology's potential, distorting its true purpose.  Blockchain is much more than bitcoin, and enables possibilities that go far beyond the scope of the digital currency.
Among an ever-expanding range of applications, the use of blockchain technology in humanitarian efforts is gaining a stronger foothold, as evidenced during one of the debates that took during the recent Sharing Madrid event.
In mid-June, the United Nations announced, in what has become one of the most revealing examples of the technology's potential, that it had used blockchain to deliver humanitarian help to over 10,000 refugees. The initiative was rolled out using Ethereum's platform, developed in partnership with a number of large multinational corporations – including Microsoft, Cisco, Intel, JP Morgan or BBVA – are involved.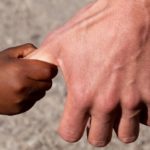 Through this network, on May 31, the United Nations World Food Program (WFP) helped Syrian refugees settled in Jordan.   Now, WFP is planning on expanding the initiative next August, multiplying by ten the number of beneficiaries.
Speed, traceability, safety and disintermediation are the advantages that this solution offers over traditional humanitarian relief mechanisms.  But, how exactly does it work?
The WFP issued a number of cryptographically unique coupons, with an equivalent value in local currency, and distributed them among two dozens of shops in the vicinity of the refugee camps through the Ethereum blockchain. Then, the merchants traded the tokens with refugees in exchange for basic products.  The identities of the aid's recipients were checked using retinal scanners.
Aid to Syrian refugees is, maybe one of the most revealing, but by no means the only example of how blockchain is helping streamline humanitarian efforts. In January 2017, for instance, the United Nations rolled out a program in Pakistan, called Building Blocks, to assess the blockchain's functioning in humanitarian aid programs.  During the Sharing Madrid event, consultant Carlos Corredor offered some insights into the Smart Network initiative, where 42 Non-Governmental Organizations (NGOs) are partnering to work on block-chain related projects.
For these private institutions, blockchain offers significant advantages in situations of crises. One of them is speed. As Corredor explained, in less than 72 hours, the organizations taking part in the program have been able to decide the destination of the relief funds, when, in average, it takes about 17 days during emergency crises - over 80 under regular conditions. Also, projects are granted access to the funds less than one week after they request them, a process that usually takes about two months.
Another huge advantage is traceability; another one of blockchain's defining traits. All the information is shared and cannot be altered without leaving a trace. Therefore, it is virtually impossible for funds to get 'lost' as they travel across the world. Also, the technology allows bypassing financial intermediaries and their, on these occasions, usually minimal transaction fees.
The use of blockchain for humanitarian purposes is at an infant stage, but its potential is huge and, just as it happens with all disruptive technologies, will open up new perspectives. As Robert Opp, head of Innovation at WFP, said in this article  "blockchain is not just San Francisco and New York. "If this can reach the poorest people in the world, the most vulnerable people in the world, I really think it could be a transformation story."