Four NGOs receive charitable donation from BBVA shareholders for their projects for a greener and more inclusive world
BBVA is firmly committed to working towards building a greener and more inclusive society. To this end, for the third consecutive year and on the occasion of the Annual General Meeting (AGM), the bank will make a donation of 300,000 euros to social organizations working in four areas related to the environment and inclusive growth. Fundación Grandes Amigos en Acción, CESAL, Fundación Plan Internacional and Fundación Ecomar were the winning organisations in 2022.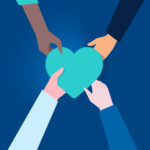 These are the winners in each of the four categories that BBVA defined for social organizations to present their projects: Each of the entities received an initial amount of 50,000 euros, plus a proportional share of the remaining 100,000 euros, which was distributed according to the votes cast by the shareholders. The results of the vote were: health and dependency 51.3%, education 21%, inequality 17.9% and environment 9.8%.
In this edition, the four winning organizations were selected in two phases: first,  Fundación Lealtad —an independent evaluator of NGOs that analyses their management, governance, use of funds, economic situation, volunteering and transparency— evaluated the entities, reviewing the information submitted and their compliance with the requirements established in the rules of participation.
Subsequently, a multidisciplinary jury made up of BBVA representatives and leading social organizations ((Fundación Codespa, Fundación Lealtad, Fundación ONCE, Fad Juventud and ECODES) selected the winning entities, looking at the significance, viability, and impact of each project.
A three-year old project
BBVA kicked off this donation in 2021 on the occasion of the AGM, with the aim of helping to alleviate the effects of COVID-19 on the most vulnerable. Thus, the entity made a charitable contribution of 300,000 euros in Spain, for the first time, coinciding with the celebration of its AGM. ATADES, Aldeas Infantiles SOS, Asociación Amica and ECODES were the selected NGOs in 2022.