As part of its initiatives to combat the climate crisis and work towards a sustainable world, Garanti BBVA has presented the first activity report of its 'Blue Breath Project' in alliance with the Deniz Temiz Association/TURMEPA. The 9-month undertaking has promoted awareness training on waste surface cleaning in the Marmara Sea as well as sea cleaning in the provinces of the region to prevent marine pollution.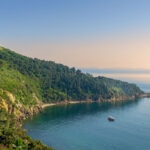 According to the report, between September 21, 2021 and June 2022, sea brooms collected 52,590 kilograms, approximately 30 tons of waste, and recycled it. The amount collected is equivalent to the daily waste produced by approximately 46,000 people.
Within the scope of the project, of the 53 tons of waste collected by the sea brooms from the Sea of Marmara, one third, i.e. 17 tons consisted of plastic waste such as plastic bags, bottles, etc, the report added.  The cleaning resulted in 4.8 tons of clothing and textile materials, 4.4 tons of metal, 4 tons of fishing nets, 11 tons of sea sludge and marine litter.
The awareness-raising part of the project included online training held at secondary school level covering topics of Global Climate Change, Our Seas, Sea Slob (Mucilage), Pollution Sources, the Zero Waste Movement, Sustainable Development Goals and Carbon Emission. A Knowledge Test is also administered to students, aiming at measuring and improving the efficiency of the training. When the results of the tests are evaluated, a significant change is observed in the awareness levels of the students who participated in the Blue Breath Project training sessions. In the tests, it was seen that the students' knowledge of the seas as a source of oxygen increased from 68.5 percent to 99 percent, and the awareness of the concept of "Blue Carbon", which refers to the carbon stored in coastal ecosystems, increased from 56 percent to 94.3 percent. It was observed that the awareness of the Zero Waste Project, which is currently being carried out in schools, increased from 64.5 percent to 86.3 percent, and the sensitivity to waste prevention and recycling issues increased. It was also observed that the awareness of phytoplankton producing oxygen increased from 47.7 percent to 99.2 percent.
Sea cleaning now started in Antalya Adrasan
Garanti BBVA and TURMEPA have now moved the Blue Breath Project to the Antalya Adrasan region. The sea sweepers, which are now working in an area of intense tourism, will continue its sea-cleaning efforts by collecting both solid and liquid waste for four months.