For yet another year, BBVA renewed its commitment to diversity and inclusion and is named one of the Top 30 Spanish companies with the best practices in the field. It was reported in the 2021 VariableD Report from Intrama's ECDI Network, comprised of companies committed to diversity and inclusion. The organization presented its conclusions at the 2020 FactorW Diversity Summit which is the largest national congress on this matter.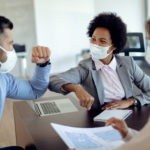 For BBVA, diversity and inclusion are part of the company's DNA. The financial institution's commitment to equal opportunities has placed it as a benchmark in the business field as indicated by Intrama´s annual list of the 30 best companies for diversity.
The human resources consultancy specializing in training for diversity, equality and inclusion held its annual meeting to share ideas and strategies among the different companies that collaborate with Intrama. "We view diversity management as a source of talent and therefore we work on it as a strategic and cross-cutting element that must be implemented in any responsible business plan," explained Vicente Marcos, Intrama's CEO. Marcos affirmed that "we are facing a unique moment where we can work towards a better future for generations to come and to invest in social change that is also possible through companies."
The Value of LGTBIQ+ Diversity
José Antonio Gallego, BBVA's Head of Diversity, participated in one of the round tables to reflect on some of the challenges facing diversity and inclusion. "We place diversity and inclusion as one of the bank's strategic priorities, not only with our employees, but also with our clients through our branding and product design in which anyone can be reflected," he explained.
One initiative implemented in recent months has been the creation of the manual, 'Normalizing Differences,' a guide that provides information on LGTBIQ+ diversity for all employees, and especially directors and managers who are involved in selection and decision-making processes regarding the staff´s professional careers and development.