Why does BBVA's carbon footprint calculator suggest that you lower the heating?
BBVA has managed to get its app to learn to read customers' bills, distinguish their energy costs and calculate their equivalent in carbon dioxide (CO2) emissions in order to offer personalized advice to save energy. Behind the carbon footprint calculator, which has been operational in Spain and will reach Turkey shortly, is an artificial intelligence system that is still being developed. In 2022, it will add transportation measurements to give an even more accurate picture of each user's environmental impact.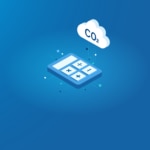 According to BBVA's calculator, a bank customer in Spain emits an average of nearly two tons of CO2 per year in household and fuel consumption, the equivalent of driving a car more than 15,000 km. In terms of companies, it is estimated that an SME that invoices up to five million euros could emit up to 70 tons of CO2 per year.
These are some of the data that BBVA has deduced after launching its carbon footprint calculator, which incorporates algorithms developed by advanced analytics and artificial intelligence teams. The system allows businesses and citizens, who have given their consent for this use of their data, to monitor their environmental impact and receive personalized recommendations to reduce it.
But, how does it work?
Translating expenses into CO2 emissions
First of all, the calculator identifies the customer's energy expenses. To do so, it selects activity from their accounts and cards that are categorized as electricity, gas and fuel. This takes place automatically, thanks to the 'Mi día a día' (My daily banking) feature on BBVA's app, which classifies expenses in customers accounts into different categories.
Next, each expense is converted into magnitudes of energy. In other words, it calculates the liters of fuel and Kwh of gas and electricity that the customer has consumed, applying the average prices per liter and Kwh. This data is obtained from public sources and reviewed in every update.

The final step is to translate this consumption into its equivalent in kg of CO2 emitted. "To do so, we use emission factors - official values that relate the amount of greenhouse gases emitted into the atmosphere with the activity that generated them," explains Daniel Martín Jones, Advanced Analytics Senior Manager in BBVA Client Solutions.
The emission factor of electricity varies depending on the customer's provider, while gas and fuel are taken from the Spanish National Inventory of Greenhouse Gases.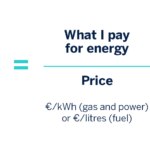 Currently, these gas, electricity and fuel expenses used for the calculation, which produce direct CO2 emissions, on average, constitute 37 percent of individual customers' complete emissions. Although the calculator currently only uses these data on energy consumption for the calculations, the plan is for new types of expenses to be included so that customers have a more accurate picture of their carbon footprint. Therefore, in the next phase, which will be implemented in 2022, public transportation (planes, trains, buses, subways and taxis) will be included.
There are ambitious plans for the calculator and the development team has not ruled out including other expenses that produce indirect emissions, for example the purchase of food and clothes, whose production has its own carbon footprint. "They are much more difficult to measure and attribute to each individual. For now, this is not foreseen, but it has not been ruled out," Jones explains.
Advice for the environmental impact of daily life
When the calculator knows how much CO2 customers emit with their everyday habits, it recommends objectives to reduce them. If the estimated expenses for electricity or gas are high compared to those of other customers who live in the same climate region (it distinguishes according to the Mediterranean, Continental or Cantabrian/Atlantic region), the algorithm offers recommendations to use the energy more efficiently. For example, lowering the heating or replacing light bulbs with other types of more efficient, LED light bulbs. However, these recommendations are omitted for customers who have a green energy plan.
In other cases, it can offer green loans for home remodels that increase energy efficiency (if the cost of electricity and gas are constantly high), install solar panels or acquire an electric or hybrid vehicle, for elevated fuel expenses. In future updates, for all recommendations that require an investment from the customer, BBVA will offer the most precise estimate possible of the amount of time it will take to yield a profit from the investment.
"Society is increasingly demanding more solutions for the transition toward a sustainable economy," explained Luís Simões, the Head of Retail Customer Solutions in BBVA's Client Solutions area. "With this feature, we want to accompany our customers in their journey toward the ecological transition, showing them their carbon footprint and offering them personalized proposals to reduce it, so that they save money and improve their financial health while helping to create a more decarbonized world."
Comparison of business performance
When the client is a business, the feature compares the performance of their business with that of other similar businesses in their sector. "Based on data on invoicing, the number of employees and economic sector, we can determine which clients are similar. We use these variables to segment the clients, as we have determined through statistical testing that they influence energy consumption behavior, and at the same time, are understandable for the client," said Minyuan Chen from the Advanced Analytics for Enteprise Clients team in BBVA's Client Solutions area.
The goal of this segmentation is to be able to tell them if they spend more, less or the same as other businesses, informing them of their consumption percentile within their comparative group.
BBVA's feature allows them to plan their annual expenditure, and set savings targets, as a percentage of the amount spent the previous year, or a set amount in euros. They can also establish different objectives for each category of energy and see how their expenses evolve at different points in the year. With the client's prior consent, the calculator also takes into account their activity from other banks.
Business recommendations are focusing on the purchase of financial products for a more sustainable activity, for which a recommendation tool has been designed that takes into account the client's sector and energy expenditure. For companies with more intensive energy use, the calculator may propose leasing LED lighting, solar photovoltaic energy for self-consumption, or energy efficiency. Meanwhile, if their expenses are concentrated in fuel or transportation, it will offer leasing cars and vans or charging stations for electric vehicles.
Next steps
In future updates, in addition to incorporating expenses in transportation, tools will be used to compare energy and financial savings when using household appliances with more sustainable energy ratings or "using an electric vehicle instead of a combustion vehicle," explained María Williams, Director of Sustainable Retail Business at BBVA. "In 2022, we also plan to incorporate activity from accounts and cards at other banks into the calculation of the carbon footprint of individual customers."
For the business feature, "we are working on simulators to estimate the CO2 taxes - a tool on assistance and subsidies and the integration of the calculator with the Management Desk in order to improve multichannel advice for clients," said Jaime Marín, Global Sustainability Program Manager for Enterprises at the bank. "In addition, we plan to continue increasing client segmentation based on their sector, region, consumption, etc. so that the recommendations we offer them are more and more personalized."
The calculator will be progressively introduced in all locations where BBVA has a presence. In early 2022, it will arrive in Turkey.