Windar Renovables signs its first sustainable finance scheme with BBVA, worth €50 million
BBVA and Windar Renovables, a leading global manufacturer of towers for onshore and offshore wind farms and foundations for offshore wind farms, have signed a sustainable invoice factoring line worth a total €50 million. The proceeds of the agreement will be used to finance a contract related to the Baltic Eagle offshore wind project, recently awarded to the company. This sustainable financing scheme, Windar Renovables' first ever, will allow the company to, through the non-recourse sale of its invoices, muster the financial resources it needs to honor its contract obligations.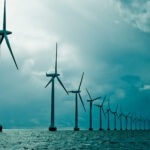 The contract envisages the supply of 50 transition pieces for the foundations of the 476 megawatt offshore wind project located in the Baltic Sea. The project has been certified as sustainable according to the EU taxonomy.
"The operation was specifically designed for Windar Renovables within the framework of BBVA's commitment to sustainability and to provide special support to renewable energy related sectors," said Manuel Díez Alonso, head of corporate banking relations at BBVA.
Sustainability is one of BBVA's strategic pillars. On July 29, the bank created a specific area that is part of its top executive line. BBVA was recently recognized as the best investment bank in the world in sustainable financing, and continues to make progress in delivering on its Pledge 2025. As of June 30, 2021, BBVA had channeled €67 billion in sustainable financing out of its €200 billion, after recently doubling the initial target it had pledged to meet by 2025. The financing granted to Windar Renovables is part of that commitment.
The renewable energy and, in particular, offshore wind industries are currently in the midst of an expansive growth process that will all but accelerate in the coming years. BBVA's trust in our company – evidenced by this factoring line - as well as its involvement in a project of the magnitude of the Baltic Eagle offshore wind farm, will allow Windar Renovables to underpin its position in the market," said Carlos Concheso, CFO of Windar Renovables.
Windar Renovables was founded in 2007 and is headquartered in Avilés (Asturias, Spain) and has manufacturing plants in Spain, Russia, India, Mexico and Brazil. Today Windar Renovables employs over 1,400 people and is the only global company with experience in the manufacture of all types of offshore foundations: transition pieces, piles, jackets and spar-type semi-submersible and floating foundations.