The 50 Best BBVA Scholarship announces the winner of its third edition
Andrew Wong is the winner of the third edition of the scholarship offered by BBVA in collaboration with The World's 50 Best Restaurants. The promising youth from the U.S. was selected among culinary students from around the world. He will complete his training at three restaurants led by chefs Mauro Colagreco, Luke Dale-Roberts and Leonor Espinosa.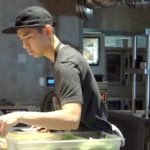 By obtaining this scholarship, Wong will acquire international experience in fine restaurants, and an opportunity that will enable him to learn from chef Mauro Colagreco at the French restaurant Mirazur, which was crowned number one in the prestigious list The World's 50 Best Restaurants in 2019. He will also have the opportunity to expand his gastronomic knowledge at The Test Kitchen (Cape Town, South Africa), the best restaurant in Africa in 2019, owned by chef Luke Dale-Roberts; and at Leo, led by the Colombian chef Leonor Espinosa in Bogota.
For Óscar Moya, Global Head of Marketing at BBVA, all of the candidates' stories "inspire us to continue our commitment to gastronomy as a transformation tool." He also says that he is convinced that  "Andrew will know how to take advantage of this great opportunity to make the world a better place through his dishes and creations."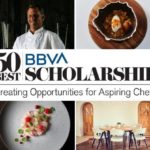 The inspiring power of gastronomy
"The relationship between food and people inspires me. Food is meaningful. It takes you to places that you have and haven't been," explains Wong when talking about his passion for gastronomy. The young Hawaiian of Chinese descent who graduated from the Culinary Institute of the Pacific in Honolulu is currently the station chef at the restaurant Auburn in Los Angeles. This scholarship will allow him to fulfill his dream of completing his training internationally.
Chef Mauro Colagreco, the owner of Mirazur, also spoke of the opportunity that this training program provides its mentors: "Through this 50 Best BBVA Scholarship program, I hope not only to inspire new talent, but also give them the opportunity to believe that anything is possible when you put your heart into it."
This ambitious training program is held annually for promising culinary youths over the age of 18 from around the world. They can be students or have less than three years of professional experience cooking. This third edition, which will take place between June and November 2020, will bring Andrew Wong to The World's 50 Best Restaurants 2020 ceremony on June 2nd in Antwerp, Belgium. There, he will formally be presented the scholarship in front of all the attendees, including renowned chefs and the media.