The BBVA and Anthemis Venture Creation studio names its first new startup partner: Cledara
Cledara, which is innovating the Software-as-a-Service (SaaS) space with a ground-breaking subscription model, has signed on as the first of what is expected to be dozens of new ventures under the program.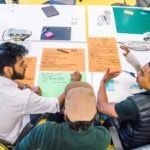 The business Cledara has developed supports companies purchasing SaaS by centralising payments onto one platform - enabling greater control and making it easier to see where money is being spent or could be saved.
Thanks to the support of the the BBVA & Anthemis Venture Studio the company will have access to mentors, advisory services and other resources as part of an integrated investment program to continue growing their business. This will allow Cledara to continue developing its business model and acquiring new skills that are fundamental to its development, such as product design, data science, business development and recruitment.
Cristina Vila Vives, the founder and CEO of this startup currently in the pre-seed stage, explains that her goal is to help make the purchase, management and cancelation of this kind of services easier and more efficient for companies. Frequently, companies do not properly track who is using these products, whether they are actually necessary, and the costs they generate. In 2018, businesses wasted approximately €20 billion as a result, according to Cledara data. "Throughout my career I have witnessed firsthand how large amounts of money are wasted on software services that are no longer used, that companies forgot about, or are duplicated," assures the founder.
To address this problem, the platform makes it possible to find the products that best meet each company's needs, make payments using a virtual card, and monitor all the expenses associated with different providers. All under a monthly subscription model. "There is a huge opportunity in technology to help companies take back control over the money they spend on these services," explains the startup founder.
The support of BBVA and Anthemis
Through the partnership between BBVA and Anthemis, both organizations work together to identify fintech companies in the early stages of development looking for both financial and strategic support to accelerate their growth. "We are committed to promoting the fintech ecosystem, especially those businesses with a real potential for disruption in transformation areas that are key for BBVA," explains Gustavo Vinacua, the Global Head of Venture Creation at BBVA.
"We also want to create businesses that have the potential to solve important problems around financial and non-financial data and business processes, and that are great investment opportunities, and that will reach large numbers of people."
Thanks to this new startup co-creation model founded last year, both BBVA and Anthemis are involved in building companies from the start. "This model gives us the opportunity to work with entrepreneurs with promising ideas since the beginning, and play a more active role when helping them build their business," adds Vinacua. The approach used by the BBVA & Anthemis Venture Studio is characterized by offering entrepreneurs a combination of capital and non-financial resources, such as access to mentors, advisory services, a network of contacts, and talent - with the aim of helping them expand the company.
"What we value most from the collaboration with BBVA and Anthemis is the constant support they have offered us," explains Vila, who reports that associating her brand with BBVA and Anthemis has opened doors and been a key impulse to get the entrepreneurship on track.
"Cristina Vila has proven to be the ideal founder to carry out this idea successfully. We see huge potential in her," says Vinacua. For BBVA, working with Cledara allows the bank to better understand how new advisory models evolve, follow trends and new behaviors in this segment of clients."We want to use our knowledge and experience to help entrepreneurs reach their goals, while also contributing to BBVA's business - not just in terms of learning, but also by adding new skills, products income streams and clients," concludes  Vinacua.